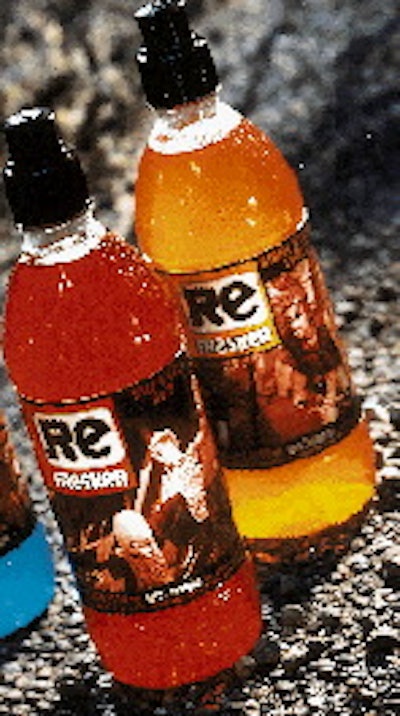 REfresher is topped with an injection-molded polypropylene sports cap by Creative Packaging Corp. (Buffalo Grove, IL) and comes in four flavors. Each flavor has its own label printed offset in four colors by Innovative Packaging Solutions (Kentwood, MI).
The label graphics are designed by Karacters Design Group (Vancouver, British Columbia, Canada) to look like a duotone, depicting people engaged in one of four cutting-edge urban sports: in-line skating, biking, skateboarding and jogging.
"Packaging is obviously a lot about visuals, and having four strong, distinct styles will help us succeed," says Kelly Lendvoy, director of communications and public affairs for Clearly Canadian.
The 20-oz polyethylene terephthalate stock bottle is injection/ stretch-blown by CNC Containers Corp. (Tumwater, WA) and bottled at Clearly Canadian's facility in Burlington, WA. The 20-oz size was chosen because through market research, Clearly Canadian discovered that's the size active people favor, Lendvoy says.
Targeted at convenience stores, the beverage is currently available in Connecticut, Massachusetts, New Hampshire and California and sells for 99¢. Clearly Canadian plans to have REfresher available nationally by the end of the year, and it will be launched in British Columbia by the summer of '98, says Yvonne Allen, manager of packaging development at Clearly Canadian.
So far, the launch appears to be successful. "Our distributors have been very positive, and the consumers like the graphic picture approach on the label," Allen says.
Companies in this article