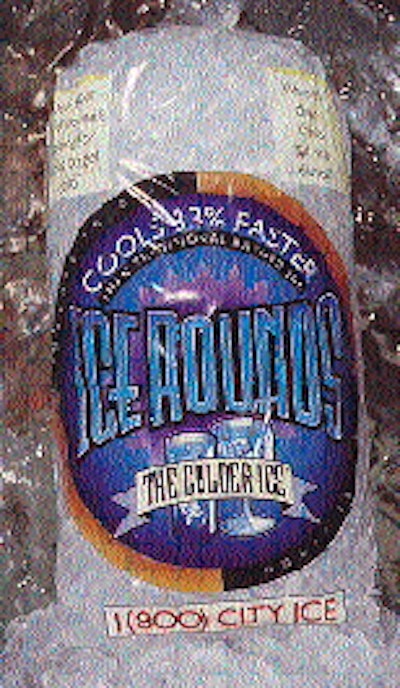 "This new package is a part of a large marketing effort to communicate to the consumer that all ice is not created equal," says Mark Resnick, president of the Petersburg, VA, firm. Unlike most bagged ice, which is crushed into randomly sized chunks, Ice Rounds(TM) not only are round but have a small hole down the center. This allows more surface area of the ice to touch the liquid being cooled, so cooling occurs 30% faster, says Resnick. Colorful graphics, designed by DBD Intl. (Rutherford, NJ), on the front and back drive home the product's benefits.
"The idea of selling round ice isn't new," says Resnick. "But treating ice as a product is new. What it comes down to is that whereas I used to sell City Ice, now I'm selling Ice Rounds, a product manufactured by City Ice."
Made of a low-density polyethylene blend, the bags come wicketed from converter Bemis Co. (Terre Haute, IN). The six-color printing is done flexographically prior to bag-making. "To the best of my knowledge we are the only packaged ice company using process printing on our package," says Resnick. The 1.5-mil 8-lb bag is clear but the 2-mil 20-pounder is tinted blue to make it easier for the consumer to differentiate between the two.
Introduced in August and sold primarily through convenience stores in central Virginia, Ice Rounds' price points are basically the same as the competition's: about $1.00 for the smaller bag and $2.25 for the larger. Resnick admits he's absorbing the increased cost of the elaborate packages, because his C-store customers can't afford to charge consumers more. Eventually he hopes to be able to demonstrate that his ice is preferred by C-store patrons, both for its functionality and its presentation. Then, he says, he'll look at pricing.