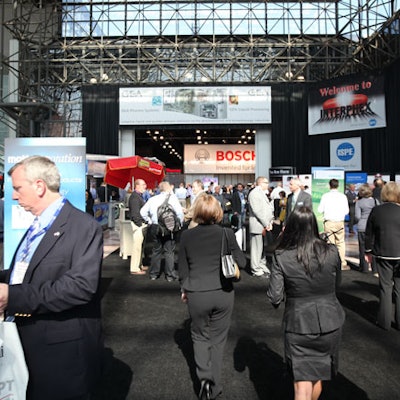 Interphex 2011 at New York's Jacob K. Javits Convention Center will feature sessions on key topics affecting biopharmaceutical manufacturing, with the following technical sessions:
• Continuous manufacturing: A regulatory perspective
• Rapid deployment of a single-use biotech facility
• User experiences with prefabricated containment solutions
• The role of "context" in converting process data into process information
• Establishing design space for lyophilized drug products
• A paradigm shift from qualitative to quantitative: The practical approach to Six Sigma
• Scale up: A novel approach to an age-old challenge in the pharmaceutical industry
The topics were selected following peer-review for relevance and quality, and their value includes knowledge transferable across dosage forms, company size, and of use to all professionals following cGMPs as practiced in the industry, proposed by organizations and enforced by regulators. All sessions will be moderated by a 2011 Advisory Board member.
Complementing the technical program will be two Luncheon Roundtable presentations, sponsored by BioProcess International, that will focus on vaccines and cell therapies.
Also returning will be the Poster Sessions on the exhibit floor, which were launched in 2010 to showcase current innovations in research and technology.
"The knowledge available at Interphex 2011 will permeate the event, through the technical curriculum, presentations by industry leaders, and an expended schedule of networking sessions that will enable peers and subject matter experts to connect on an individual basis," says Cindy Strachan, director of industry development at Interphex. "We will also be continuing enhancements to the show floor that proved so popular in 2010."
Details on registration, conference packages, group and ISPE member discounts can be found here and event news is available via Facebook, Twitter and LinkedIn.

Interphex USA provides leading-edge technology, education, and sourcing of the products and services that drive scientific innovation for life sciences manufacturing and is produced by Reed Exhibitions.
Interphex, ISPE to partner again
Meanwhile, Interphex and the International Society for Pharmaceutical Engineering (ISPE) will renew their partnership for Interphex 2011. "The relationship between ISPE and Interphex continues to be a true partnership, where we work together each year on ways to enrich the event experience," says Bob Stewart, Interphex industry vice president. This has included a greater involvement by ISPE Chapters, who in 2010 hosted hotel-event shuttle transportation, which will be continued in 2011. ISPE will also continue to host a member lounge, and a display on the show floor where non-members can learn about the benefits of ISPE membership and details of affiliates and chapters in their area.
"We're proud to be partnering with Interphex once more on Interphex 2011," says Bob Best, ISPE's President and CEO. "ISPE's core purpose is to give our members the resources they need to drive global innovation. Our partnership with Interphex fits well with this goal. The show is a terrific place for suppliers and industry professionals to come together, exchange ideas, and foster best practices to help move the pharmaceutical industry forward."