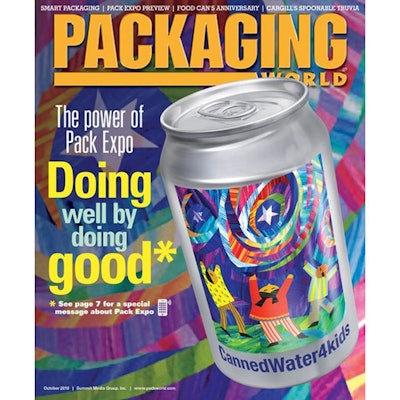 The Packaging Machinery Manufacturers Institute (PMMI) has announced that it is partnering with CannedWater4kids, http://www.cannedwater4kids.com/ a nonprofit charity organization focused on delivering clean, safe water to children worldwide, at Pack Expo International, Oct. 31-Nov. 3 at Chicago's McCormick Place. The partnership will raise funds and awareness among the packaging and processing community of the need for clean drinking water for children.
"When we learned about this initiative, it seemed like a relatively simple way to reach out to the packaging and processing community regarding a rather complex problem," says Charles D. Yuska, president and CEO of PMMI. "PMMI has an opportunity, every year, to get in front of a large audience with resources that can help this cause. We are very pleased to bring CannedWater4kids to Pack Expo International."
In addition to purchasing more than 7,000 cans of water — a donation of $1 per can — PMMI has donated a booth to CannedWater4kids. The cans of water will be available to all (suggested donation: $1, which will be given to CannedWater4kids), along with information about the charity and its efforts to tap into the global can industry.
"PMMI's support has brought new visibility and energy to, and helped create awareness of, packaging's important role and purpose in the world, especially in developing countries where it is needed the most to help preserve and protect food from spoiling and to keep clean drinking water safe," says Greg Stromberg, founder of CannedWater4kids
Several industry leaders have already taken an active role in producing the canned water. Crown Holdings, Ball Corp., Rexam, and Metal Container Corp. have all contributed more than half a million aluminum cans to the project.
"I believe the packaging industry will be the foundation for achieving and protecting two basic needs for developing countries: healthy food and clean water," Stromberg adds. "Most food doesn't reach its destination because, without any protection, it spoils; and without protection, drinking water can easily be contaminated, too. I hope to align the packaging and processing industries around this cause by using the can as a 'poster child' to promote this need for children."
Stromberg came up with the idea of CannedWater4kids in 2008, when he learned the World Health Organization estimates nearly one-fifth of the world's population is without safe drinking water. He created and initially operated CannedWater4kids in his home in Milwaukee, but that was just the beginning of the outreach of CannedWater4kids. Stromberg went even further in the aftermath of the January 2010 earthquakes in Haiti and arranged for cans of clean drinking water to be sent to Haiti by way of a Royal Caribbean Cruise Line ship.
All funds collected by CannedWater4kids are used to help bring clean, safe water to children everywhere. By visiting the Web site, anyone can make a monetary contribution to their efforts.
Packaging World is doing its part to support CannedWater4kids. The October issue of Packaging World features the beautifully decorated can that will be distributed at Pack Expo. The cover features a mobile-enabled process utilizing Catalent's Media Enhanced Packaging technology and an app from Digimarc that links to a special show welcome message.
If you have not received the October issue yet or have a mobile device with the Digimarc app, you can connect to the video. Be sure to stop in to the CannedWater4kids booth at Pack Expo and at the Packaging World booth, #2085.
Companies in this article