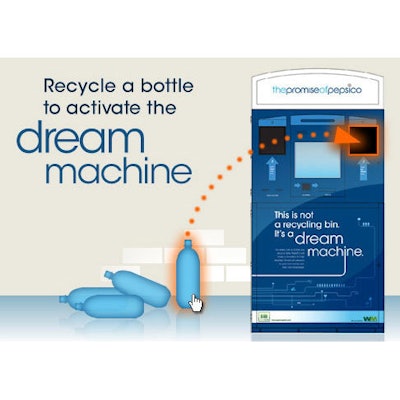 PepsiCo and Waste Management are partnering on a nationwide recycling initiative to make it more convenient and rewarding for people to recycle on the go. The program has been designed to address the gap in the recycling system by providing access to consumers in public venues, through the use of automated reverse-vending machines, dubbed Dream Machines.
Explains information on the Dream Machine Facebook page: "Here is how it works: When a bottle or can is deposited, the Dream Machine is activated in three ways: (1) the environment gets a little greener; (2) consumers earn points that can be collected and redeemed for rewards; and (3) American veterans with disabilities receive training and education to start their own business."
With each bottle recycled in a Dream Machine, PepsiCo will also make a donation to Entrepreneurship Bootcamp for Veterans with Disabilities (EBV). EBV offers experiential training in entrepreneurship and small business management to post-9/11 veterans with disabilities, opening the door to business ownership for veterans. According to the organization, PepsiCo Inc. is expected to donate at least $1.5 million over the next three years through the Dream Machine program.
Dream Machines will be rolled out at high-traffic public venues such as gas stations, stadiums, and public parks, to capture the maximum amount of beverage containers from consumers on-the-go. According to PepsiCo, more than 200 of the machines have been installed in the U.S. so far, "a number that will greatly increase in the weeks to come."
The program is similar to one launched last year by Nestle Waters North America and Whole Foods, which also partnered with Waste Management, creating the Green-Ops Tracking System for Nestle's "re-source" bottled water.
Dream Machines come in two forms: intelligent and traditional. Intelligent kiosks, designed by Greenopolis, are recycling receptacles that include a personal reward system that allows consumers to collect redeemable points. Traditional recycling bins will also be rolled out across the Keep America Beautiful network of over 600 nationwide affiliates.
This "closed loop" system includes a focus on capturing single-use containers to aid in increased recycling rates by keeping these items out of the trash and back into the reprocessing stream. The program has been undertaken by PepsiCo in part to meet its commitment to increasing the beverage container recycling rate to 50% by 2018—a goal announced by the company in March.