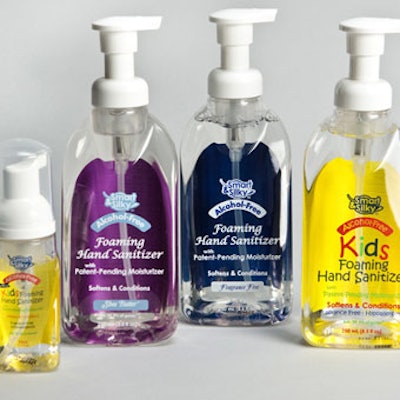 The National Association of Container Distributors (NACD) has named the Smart & Silky Foaming Hand Sanitizer package from TricorBraun as the winner of the Bernard M. Seid Best of Show award for 2010.
Hand sanitizer packaging tends to be very medical and utilitarian. But as the H1N1 outbreak makes its way through the population, the focus on prevention through hand cleansing has had another effect: People are keeping their sanitizers easily accessible on counters and desks.
Because of this, Enviornmental Solutions Intl. (ESI), Chicago, went to TricorBraun requesting a package that would catch the consumer's eye on the shelf and be good looking enough to keep on a counter or desk. ESI also wanted a tote size for purses and bags.
TricorBraun designed an unusual shape—not a square or a round—that stands out on the shelf. Its slanted edge in the front is unique and useful, designed with more space to get hands under the pump while dispensing the product. Plus, the shape gives it a stable base from which to dispense. The shape and label coloration do the same for tote size. While the taper is not as obvious, the fact that it is most likely being picked up to use instead of sitting on a counter makes the ability to fit hands under the dispenser not as big a factor.
TricorBraun also conceived the graphic designs for the label and the idea to have a colored, nonprinted side of the label show through the clear product, even reflecting on the bottom of the bottle, giving clear SKU differentiation for the different products in the line. The package is also eye-catching, almost giving the appearance of a colored bottle.
Awards recognize innovation
The Annual NACD Packaging Awards program recognizes the most innovative packages released during the previous year. The awards are given to the package distributors that developed the packaging for their clients. Judging for the 2010 program took place March 8-9 in Weehawken, NJ. Awards are given to the top three containers in seven categories: Cosmetic & Personal Care; Food & Beverage; Drug & Pharmaceutical; Novelty; Household Chemical & Automotive; Pet & Vet; and General Industrial.
The package receiving the most judging votes overall is awarded the Bernard M. Seid Best of Show award. The rest of the 2010 awards will be announced during the NACD Annual Convention, taking place April 14-18 at the Ritz-Carlton Grande Lakes Orlando in Orlando, FL
Companies in this article