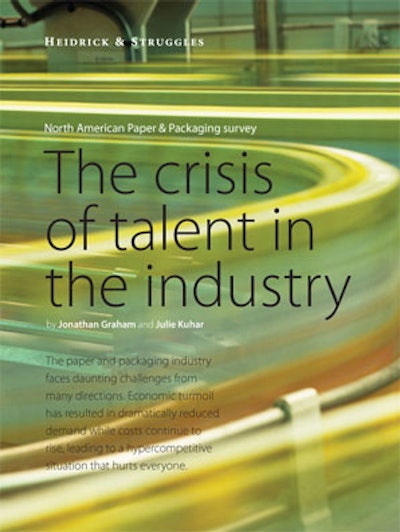 The economic recession slashed jobs across the board, including those in the packaging function. Now a survey from executive search and leadership advisory firm Heidrick & Struggles Intl. Inc. "shows that talent tops the list of concerns for executives in the North American paper and packaging sector, with only 4% believing strongly that their talent management is prepared for the current challenges facing the industry."
Tell me this doesn't surprise anyone. Letting experienced packaging pros go to save short-term money doesn't seem to be a good long-term strategy for companies looking to thrive when the economy heads north.
In his "Post-recession Planning" column in the Dec. 2009 issue of Automation World magazine, Jim Pinto writes, "Some companies risk their chance of survival and longer-term prosperity by losing people who would have been star performers in the post-recession growth stage. Companies with good, trained teams have the best chance of survival, and expansion after the worst is over."
The worst does appear to be over. Paul Sturgeon, business manager at KLA Industries, a search firm specializing in the plastics and packaging industry for more than 10 years, believes 2010 will be a healthy year for employment in the pharmaceutical and medical device packaging sectors.