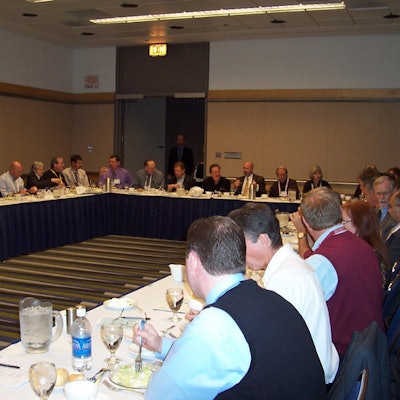 One hour into the show, Purdue University Calumet and Reading Area Community College held an official signing ceremony to officially put in place an articulation agreement between the two schools. Dean of Workforce and Economic Development, John DeVere of RACC and Dean of the School of Technology, Niaz Latif of Purdue signed the agreement which allows students graduating from RACC with an Associate in Applied Science in Mechatronics Engineering Technology at to complete the Bachelor of Science degree in Mechatronics Engineering Technology at Purdue University Calumet. Both programs are new within the past year and this is the first articulation agreement of its kind in the nation. The RACC program already has 20 students enrolled and the Purdue program has 6.
Later in the morning, Michigan State University's School of Packaging hosted a Packaging Educators Meeting to discuss development of a Packaging Educators Forum. This forum would provide some structure for sharing ideas among schools and provide occasional social opportunities at which packaging educators could interact. Under discussion is the establishment of a website that can serve as a single source of information on packaging education programs and people.
Sunday afternoon saw a follow-up meeting of educators who participated in the Purdue Workshop on Packaging Mechatronics. This meeting was held in July and sponsored by PMMI and the Mid-Atlantic Mechatronics Partnership. The goal of this group is to create a set of nationally recognized certificates that can be offered by PMMI to certify trades people, technicians and technologists in packaging-oriented mechatronics. The group has made excellent progress in defining the suite of certificates. They will be refining the associated skill standards over the next several months and seeking additional industry input.
Watch OnTheEdgeBlog.com for more details on these education activities.

Companies in this article