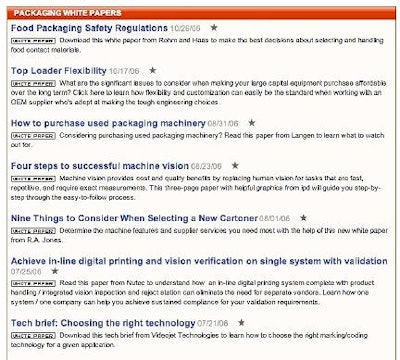 Among a growing array of products that include editorial, podcasts, Webcasts, conferences, and videos, Packaging World also publishes white papers on a diverse range of subjects. As of late January, the PW white paper library numbered 44, with the number growing monthly. Some examples:

* Food packaging safety regulations
* Buying primer: Laser coding vs. ink jet
* Differences in OCR and OCV technologies
* How to respond to mixed pallet initiatives from major retailers like Wal-Mart

The papers tap the expertise of suppliers, and who better to offer advice, insights, and guidance than the managers of companies in that particular market segment? PW editors also assisted on the development of these papers.

Simple registration

All you have to do is register once, and that qualifies you to instantly select any others that you want. They are provided as a convenient PDF (Portable Document Format).

Here's the Web "shelf" on which these volumes are kept: www.packworld.com/whitepapers

Check them out, you will find information and guidance for your next project that you will not find anyplace else.


Companies in this article