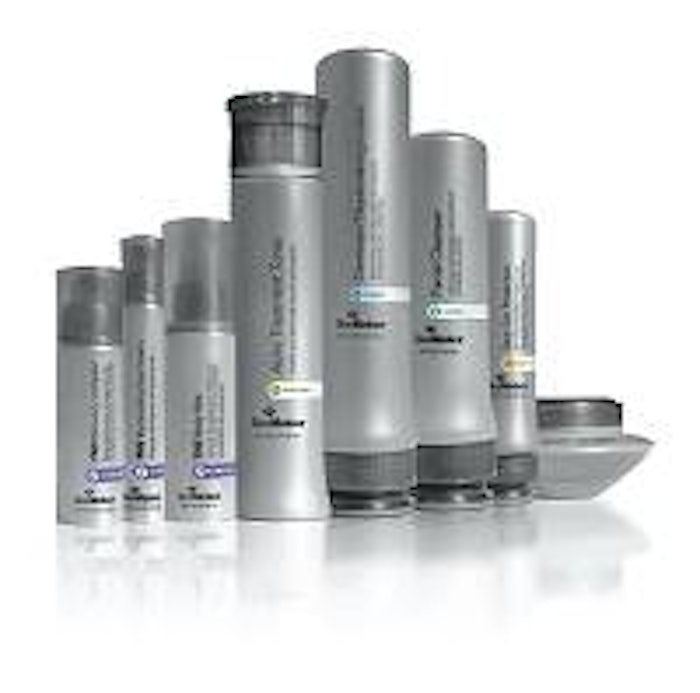 "We are a cutting-edge company that has cutting-edge ingredients," says Josie Norine, product manager, cosmeceuticals, for Carlsbad, CA-based SkinMedica, Inc., maker of pharmaceutical and cosmeceutical dermatology products. "So we want to be the first in the marketplace to make a strategic change as far as packaging, and be a pioneer, but [our packaging was] pretty dated in the marketplace," for the products, which had been on the market five years.

Norine describes cosmeceuticals as a hybrid of pharmaceuticals and cosmetics. SkinMedica, she explains, doesn't sell "prescription skin care products but medical-grade skin care items dispensed only through physicians' offices."

But that doesn't mean packaging and package graphics should look ordinary. "Certainly not," she exclaims. "We have a pretty savvy audience. And packaging is just as important in a physician's office as in a retail channel."

Norine wasn't yet with SkinMedica when it sought a new packaging brand firm to update its look. "The company went out and sourced various vendors, and determined that it wanted to do custom packaging rather than taking something off the shelf. And that's how it started a relationship," with 4sight inc. (www. www.4sightinc.com), a product and packaging design firm.

Multiple product lines
 
Norine says SkinMedica uses two contract manufacturers for packaging, Universal Packaging Systems (www.upsilab.com), and Truett Laboratories (www.truettlaboratories.com.

SkinMedica and 4sight examined the product line and "after extensive evaluation, we found enough commonality in size and functional requirements to minimize the required number of package components," says Stuart Leslie, 4sight's president.

"We have 24 products sold directly to the physicians, in six different sizes," Norine explains. "We have products in a tottle that stands on its head and an airless pump dispenser for some products. We have a plastic jar, and then we have a dispenser toner product that stands on its bottom, where you just dispense the product into a cotton ball."

High-density polyethylene tottles are supplied by TricorBraun (www.tricorbraun.com), dispensing systems come from Valois (www.valois.com), polypropylene airless pumps are sourced through Airlessystems (www.airlessystems.com), and folding cartons from Royal Paper Box (www.royalpaperbox.com)

Structural and design changes
 
4sight designed geometric, elegant forms with visual cues of gradated cylinders that depict SkinMedica's scientific-based heritage. The supplier says a different color and icon depicts each category in the line to make it easier to identify each product. 4sight replaced what Norine says was an aging blue-and-gold color scheme for its bottles with a light silver grey/platinum translucent finish to complement new packaging structures.

Those structures, including pearlized polyethylene and polypropylene, helped bring a more contemporary look and feel to SkinMedica's packaging.

"Not only do the new custom components developed by 4sight give our products a more modern and high-end appearance, but the change from jars to bottles and the new structure also enhance the functionality," says Sara Sweeney, senior product manager, cosmeceuticals. "For example, 4sight designed our facial cleanser and replenishing lotion in an inverted position so the bottles stand on the cap, allowing the product to flow out more quickly. Many of the bottles also incorporate oval-shaped airless pumps that allow easy dispensing of the recommended dosage, prevent oxidation, and deliver the entire volume of product to the patient, for both bottles and tottles. With the oval-shaped pump, 4sight consolidated the use of packaging materials, allowing for fewer [packaging] forms. The flip-up caps can be easily opened with one hand."

Norine adds, "Our toners were in bottles that you had to flip over and squirt out on to a hand. So a lot of the improvement is from improved design and functionality for the customers; something more hygienic, cleaner, and more beneficial for our consumers."

Coordinating efforts with SkinMedica's closure vendors, 4sight made slight modifications to stock components to create more aesthetic and functional packaging, without lengthy timelines. 4sight and SkinMedica worked to achieve manufacturing efficiencies and limit costs to help justify the rebranding effort of the products. SkinMedica relaunched the products in the new packaging last April.
Companies in this article