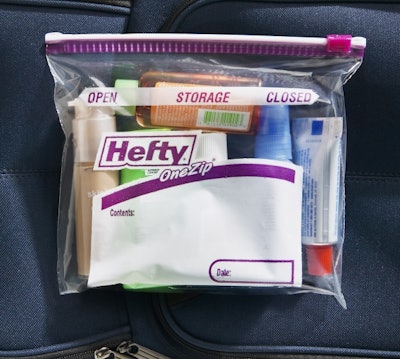 We can debate whether a plastic bag is a package or product, but when the bag is used to contain packaged shampoos and other liquids and deliver them through the air transportation distribution "chain", this editor argues that the bag serves as a secondary package.
In mid-November, USA Today reported that Pactiv Corp. was offering more than one million of its Hefty OneZip one-quart slider bags to help keep passengers flowing through security checkpoints at participating airports during the busy holiday season that began with Thanksgiving.

Pactiv says the slider bags will help passengers comply with the new U.S. Transportation Security Administration (TSA) 3-1-1 carry-on guidelines for air travel. The 3-1-1 refers to carrying 3-oz or less bottles in a 1-quart clear, plastic, zip-top bag, one bag per passenger.

The Hefty bags were to be offered while supplies last.
Update December 21: Pactiv announced ithat it is offering 1.2 million additional Hefty OneZip one-quart slider bags free to airports across the United States. That brings the total number of the bags shipped to airports to more than two million since the holiday travel season began last month.
Travelers and airport/TSA personnel said that the Hefty bags "made a world of difference during the Thanksgiving holiday rush because it helped unprepared passengers meet security requirements and kept them moving smoothly through security checkpoints," said John Schwab, senior vice president & general manager, Hefty Consumer Products.
According to Schwab, the quart-size slider storage bags are currently being shipped to airports across the country that have requested them for on-site distribution. Distribution to airports will continue through the holiday season while supplies last.

For more information, visit this Hefty OneZip Web site or TSA.gov.


Companies in this article