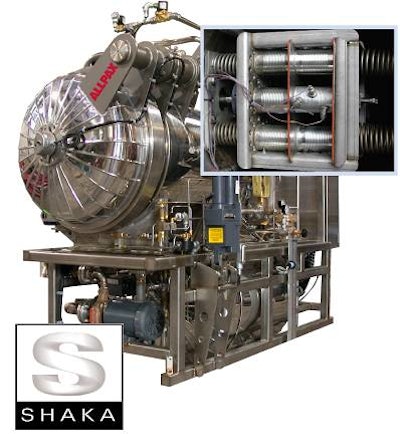 The Shaka™ process is the new in-container sterilization process that has the shelf-stable industry buzzing. Patented and developed by Zinetec Ltd, based in the U.K., the Shaka™ process distinguishes itself from the standard processes of today by reducing sterilization times by up to 95% compared with conventional static retorts. This can improve freshness, color and texture of food significantly. These benefits are achieved by imparting high levels of agitation to containers as they are sterilized, thus generating rapid mixing and heat distribution in the food.
Allpax, a licensed Shaka™ manufacturer, has developed its newest retort system specifically for this breakthrough sterilization process.
"The design challenge of a Shaka retort took months of brainstorming to solve," said Allpax lead design engineer Trae Miller. "Our objective was to produce a retort design which not only delivers the Shaka process on R&D sized machines but one that could also scale up to a production-sized machine and withstand the elevated rigors. The intense G-forces required by Shaka™ must be handled properly to prevent wear over time. This led us to our vibration-dampening kspring design, which we have been granted patent pending status and will be showcasing at Process Expo."
When asked to comment on the Allpax spring design, Zinetec's Director and father of the Shaka™ process, Richard Walden, commented, "US food companies are urgently seeking out R&D machines, so I am delighted that Allpax is launching this innovative retort. Allpax is well-known for their high quality standards so I was not surprised when they designed their R&D retort with both durability and scalability as primary objectives. I really look forward to seeing their first production machines in 2007."
The Allpax 2402SK Shaka R&D retort will be on display at the Process Expo in Chicago at booth #6521, October 29 through November 2. For more information about Allpax Products retort solutions, contact them at 985-893-9277,
info@allpax.com
or visit their website at
www.allpax.com
.
Allpax, a division of Pro Mach, manufactures a complete range of sterilization and material handling machinery for food, beverage, and pharmaceutical companies. Through three business units and related divisions, Pro Mach provides equipment, training, installation, and parts in primary packaging, end-of-line packaging, and identification and tracking.
Companies in this article