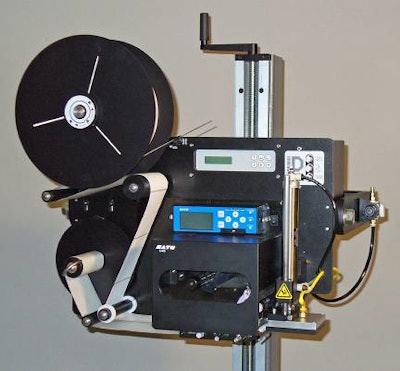 The Model 220 utilizes the Lt408 from Sato. The Lt408 prints text, graphics and barcodes at 203dpi up to 6 inches per second. A large LCD display with icon-driven user interface allows easy set-up and operation. Printhead change is made quick and easy with the One-Touch printhead release.
The base applicator is built with the same convenient "hot-swap" modules as the industry leading Model 250 Label Printer Applicator. ID Technology provides a factory upgrade from a Model 220 to Model 250 when production grows and a full featured, high speed printer applicator is needed.
For more information on ID Technology's expanding line of coding and marking products, peripherals and service call 888.438.3242 ext. 159.
ID Technology, a division of Pro Mach, is a manufacturer and integrator of labeling, coding and marking systems, as well as, peripheral equipment, supplies and service. Through three business units and related divisions, Pro Mach provides equipment, training, installation, and parts in primary packaging, end-of-line packaging, and identification and tracking. For more information or to locate one of the ID Technology nationwide sales and service centers, call 888.438.3242 or visit our website at
www.idtechnology.com
.
Companies in this article