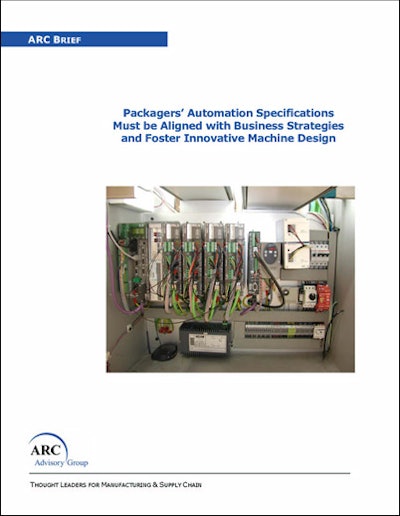 Request your copy of this report
It was bound to happen. As technology has advanced and packaging automation specialists have developed purpose-built technology to change how packaging machines are designed, the 'tried and true' of PLC-driven vendor specs has turned into the 'status quo,' stifling innovation and speed to market.
Value wins over unnecessarily rigid specifications
The advent of international standards has rendered such rigid supplier standardization unnecessary and inconsistent with business strategies, according to a new report by the automation analysts at ARC Advisory Group.
In fact, ARC goes on to say that North American packaging machine builders, having lost market share to European builders who essentially argued the value of their machinery against single vendor specs, have been anxious to utilize more effective control systems themselves.
The door opens rapidly for domain experts
Now, it appears, the door is opening to just such a scenario, in which OEMs are encouraged to offer the automation supplier that can optimize their design, so long as it is on a 'short list' of qualified, global suppliers exhibiting packaging domain expertise. And innovative machine builders are making the leap.
And, ARC says it believes that this change will come more rapidly than many North American CPG manufacturers and machine builders anticipate. The report goes on to identify signs of change.
• Pfizer automation director Paul Greene called for radical change and improvement in manufacturing practices at ARC's annual manufacturing automation forum, insisting that automation suppliers drive standards and bring more value in the CPG as well as pharma
• Goodman Packaging Equipment vp of sales and marketing Bruce Larson cited his company's need to use a more open, modular control architecture that requires less programming and delivers increased functionalities
• Hershey controls engineering manager Joe Wagner recently reported that by opening up their controls standard, they have realized reduced machine delivery times, cost savings and performance guarantees from their packaging machinery suppliers
Decision makers need to 'step up to become change agents'
The report concludes that users need and suppliers are now providing more advanced machinery, domain expertise and purpose-built technologies with controls that are easier to connect, modify, and maintain – enabled by modular hardware and software design.
ARC flat out states that CPG manufacturers that do not change their rigid single supplier specifications risk hindering development of innovative designs from the North American machine industry – at a time when packaging is becoming as strategically important as the product itself.
ARC recommends that decision makers in the CPG should step up to become the change agents to remove obstacles to the adoption of innovative packaging automation technology and innovative OEMs.
Companies in this article