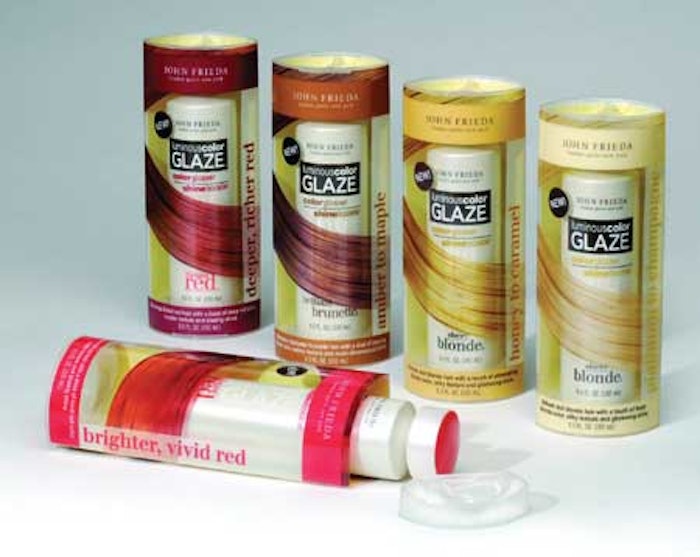 The 14-mil PVC sleeves are printed UV offset in eight colors. The polypropylene end caps are injection-molded by AGI Polymatrix (www.agipolymatrix.com), another MeadWestvaco company.
"InSight gave us exactly what we needed—the ability to deliver on our promise that inside this premium outer package is a significant beauty product," says Michelle Messina, senior brand manager at John Frieda, Stamford, CT. "When you see the glossy red, brunette, and blonde Glazes next to each other on the shelf, the look is absolutely arresting."
Such products are typically in paperboard cartons, according to Ken Adams, manager of packaging development at Kao Brands, John Frieda's parent company. "But we were emboldened [with this] creative packaging that delivers maximum attention at point-of-sale."
The products' chemistry dictated that the cream be in a perfectly round bottle with small feet like a soda bottle's, and a twist-off cap. "This restriction meant the outer packaging had to work especially hard for us," says Messina. "The front graphics communicate the results consumers can achieve and allow them to clearly see the bottle inside. There's plenty of room on the back to explain what the product does."
The sleeves are shipped flat to Kao Brands, John Frieda's parent company, for product insertion. During hand assembly, the 6.5-oz bottle is inserted into the base cap before it is sleeved and the end cap is applied. The bottom cap locks into place, but the top cap also permits a 1⁄4-turn opening for convenience. The head-turning, elliptically shaped packs pack retail for $9.99.
Messina says she is optimistic about the products. "Initial response from our retailers has been exceptional, and early sales look great." A European launch is planned for September.
—Rick Lingle
Companies in this article