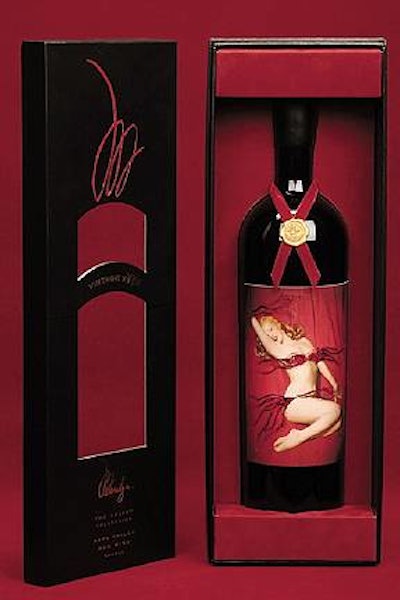 It's not every month that I am embarrassed in the line of duty—especially since executive editor Arnie Orloski relocated to northeast Wisconsin—but that happened recently to me over a story about a bottle of wine. Specifically, over the bottle's revealing label. The story involved a new boxed version of Marilyn Merlot from Marilyn Wines (see Packaging an icon, published January 2006).
From a packaging standpoint, the story lead was a good one, but there was a catch: The labels that we wanted to show were called "peel and peek" for good reason. A clear, peelable overlay of the base label showing an unadorned Marilyn Monroe—then known as Norma Jeane Baker— features printed sparkles "in the appropriate places," according to Donna Holder, who co-owns the winery along with her husband. Holder was a delightful interview, willing to answer every question I had.
The sparkles were required by the Tax and Trade Bureau, which does not permit nudity on wine labels, Holder explained. However, she felt that the imagery was of historical significance, and she wanted to use it for their wines.
Frankly, what wasn't hidden was more than enough for a family-friendly publication like ours.
When I asked Holder about the availability of pictures, she referred me to a location within their Web site, an editor-friendly site that included downloadable high-resolution images. I later looked at our options and admit that I was taken aback at the selection. I rechecked with Holder to see if there was anything that was more "discreet" than what I saw at the Web site.
Discreet? Not here…
Her tongue-in-cheek reply: "After looking at our Web site, you might realize that discreet might not be a word that we are familiar with."
I checked with my editor on our options, and we agreed that the best way to "show" the label's details was through prose. Even the specific choice of the story's only image—one of the entire package—was left up to our female associate art director. As an added measure, it was also suggested that the picture not run any larger than necessary.
Thus, we ran the peel-and-peek sidebar without a closeup of the label that the circumstances otherwise called for. If it had been Rainbow Wines or Pretty Flower Wines, we would have had included a close-up of the technically innovative peel-off label.
But for Marilyn, no way.
After all—and according to Shakespeare—isn't discretion the better part of valor?
However, we did leave an economical option for our more inquisitive readers, and we ended the story thusly: "Those interested in seeing the labels in more detail can visit Marilyn Wines' Web site."
I say economical because last I checked, each bottle was selling for upwards of $200, and that was before a fire destroyed much of the company's inventory, further proof that Marilyn is still hot today.