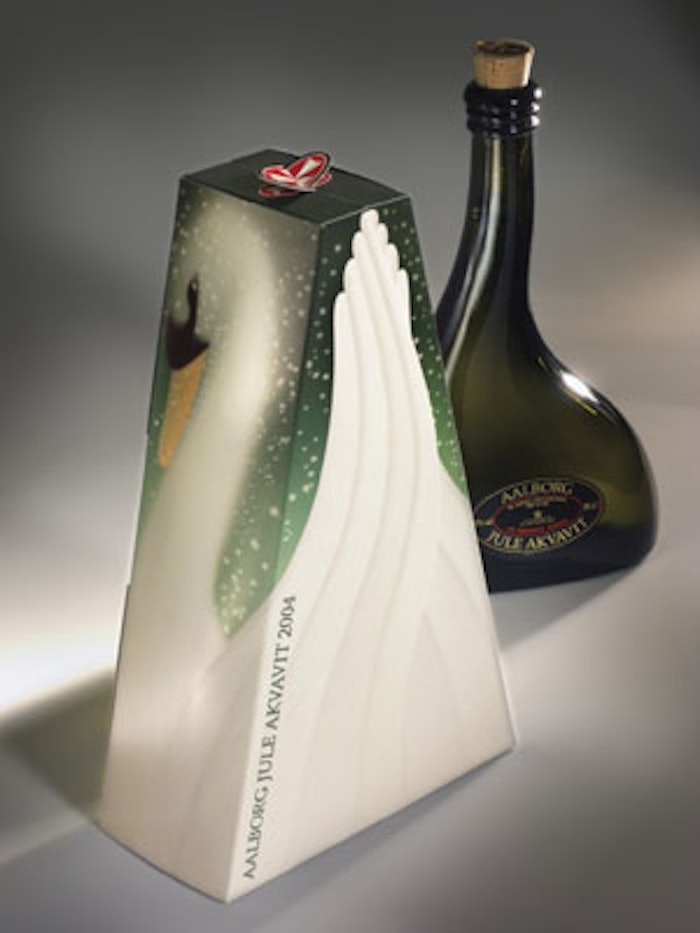 There's just so much going on.
Take wine packaging, for example. Bag-in-box will continue to grow as an alternative to glass, but there may be news on the horizon for wine in plastic bottles, too. It's known as the Pettle. Hailing from Australia, this PET bottle is the result of a joint venture between Air New Zealand and commercial bottle maker LinkPlas. Weighing 34 g instead of the 154 g that its glass counterpart weighs, the Pettle is said to provide a one-year shelf life. New Zealand's Montana Wines was involved in the four-year development of the Pettle and has a one-year exclusive on it.
LinkPlas's Steve Morrison isn't saying much about how the Pettle is made, what its economics are, or how it provides a one-year shelf life. "Due to the confidential nature of the processing and composition of the Pettle, all I can disclose is that it's monolayer PET and is produced on single-stage injection stretch blow-molding machinery," says Morrison.
PET isn't the only polymer making news. Some view clarified oriented polypropylene as a contender.
"Clarified OPP bottles produced on a reheat-and-blow system are emerging as a realistic alternative to PET in some food and beverage categories," says Gordon Bockner of Business Development Associates. "The material is thermally stable so you don't have to heat-set it for fill temperatures in the 185- to 195-degree range and above. It also has good moisture vapor transmission rates. But its gas barrier properties are its weakness. So I see good potential for it to challenge PET in select applications where heat stability and clarity are important and oxygen barrier isn't crucial. Fresh products, for instance, that will be distributed and merchandised under refrigeration, would be a good example."
Ongoing developments in coating technology, says Bockner, might one day make OPP a candidate for applications where gas barrier is needed. Among the challenges at this point is that coatings tend not to adhere to the material, so some are trying corona treatments that make the surface more receptive to a coating, says Bockner.
Look for continued developments in plastic container-making like the examples described above. But don't expect metal or glass to quietly fold their tents. According to Rexam's Consumer Packaging Reports 2005/6, "Glass producers have achieved growth by creating opportunities for lightweight, decorated containers with premium appeal. Metal, meanwhile, has seen strong performance in beverage applications in line with increases in consumption of packaged soft drinks and beer. At the same time, metal has also experienced moderate growth in food and general line applications."
Exemplifying glass's ability to convey premium appeal is the beautiful container (shown above) for coffee liqueur marketed by Starbucks and Jim Beam. And from the juice segment of the beverage industry comes the announcement by Canadian beverage producer Lassonde that it has gone from PET to glass for all of its 16-oz offerings. Meanwhile, in Windsor, CO, Owens-Illinois, the world's leading supplier of packaging materials for consumer goods, has built the first new glass plant in the U.S. in 23 years.
Metal will continue to shine, too, especially where shaped cans and aluminum bottles are concerned. It's interesting to see that the aluminum bottle trend is being driven not only by giants like Anheuser-Busch, but also by small regional brewers like Big Sky Brewery in Missoula, MT.
Don't forget fiber-based packaging, either. Newly developed barrier coatings could make paperboard more useful than ever in food and beverage packaging. Also mighty intriguing is the agenda for a recent conference in Sweden called SustainPack (www.pira.co.uk). It held a number of sessions on how nanotechnology was poised to unlock a future of smarter and stronger fiber-based packaging. Further evidence of fiberboard packaging's design potential can be seen in the paperboard carton for V&S Denmark's Aalborg Akvavit, one of Scandanavia's renowned spirits (shown left). The award-winning carton is made of solid bleached sulfate from Stora Enso. When opened, the carton becomes a gliding swan opening its wings.
That's it for now on the food and beverage packaging beat. Be sure to see what PW editors Jim Butschli, Jim George, and Rick Lingle discovered as they researched their December Forecast stories (pages 28, 32, and 38). We hope you find our series useful. By all means drop me a line and let me know. Maybe you can help us shape next year's December Forecast.
Companies in this article