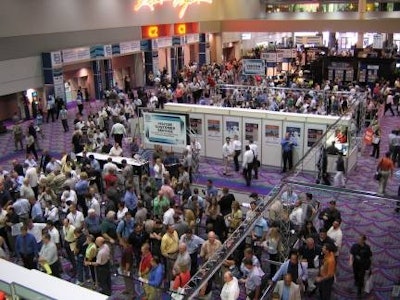 The Pack Expo Las Vegas 2005 exhibition is now history. While preshow estimates by the sponsor, the Packaging Machinery Manufacturers Institute, anticipated 19ꯠ attendees from more than 60 countries, actual figures announced Monday by the PMMI were as follows (change from the last PELV show in 2003):
Visitors: 21꽫 (+19%)
Total attendees (includes exhibitor personnel): 33걺 (+17%)
Also, a final tally of 1걵 exhibiting companies were reported by PMMI manager of communications Sara Kryder.
PMMI director of member services Matt Croson notes that international visitors numbered 2껥, which was a 22% increase from 2003.
That trend of record-breaking figures was matched by the excitement on the show floor, which featured numerous packaging introductions. For a look at some technology exemplary of the new packaging machinery and materials noted by the Packaging World editorial team, you can view these newsletters that were published last week:
Pack Expo Las Vegas 2005 Dispatch 1
Pack Expo Las Vegas 2005 Dispatch 2
A third Pack Expo Las Vegas "dispatch" will be available in a few days, so please check back by the end of the week using this direct link or check back at our homepage at www.packworld.com.
For those planning ahead, Pack Expo International 2006 will be held at McCormick Place in Chicago, IL, October 29- November 2, 2006. PMMI is co-locating the show with the Food Processing Machinery EXPO and the Converting & Package Printing Expo (CPP Expo). It will also feature again a Containers & Materials Pavilion.
PHOTO: The real action in Vegas was at the convention center, home to Pack Expo. This photo shows the crowds out of the gates early Monday.
Companies in this article