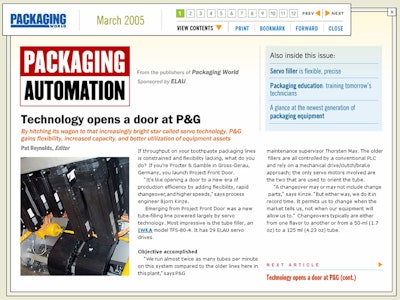 Digital magazine is all packaging automation all the time
Packaging Automation is the world's first and only digital magazine dedicated to packaging machinery automation. The debut issue of this bimonthly online magazine received high marks from readers for useful content. Features include case studies profiles of advanced packaging technologies events and more.
The next issue reporting highlights of the world-renowned Interpack trade show in Düsseldorf Germany will appear in May. To receive the Interpack issue automatically click here.
Packaging Automation from the editors of Packaging World is sponsored exclusively by ELAU the world's fastest growing supplier of automation systems for servo packaging machinery. Packaging Automation uses the same patent-pending online publishing technology used in Healthcare Packaging and Shelf Impact magazines.
Companies in this article
Videos from All Packaging Machinery Corp.