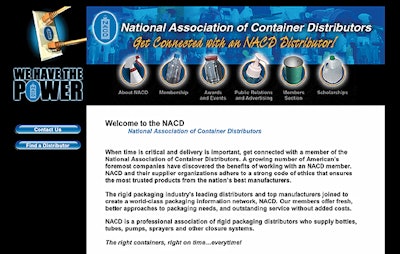 The National Association of Container Distributors (NACD) has redesigned its Web site (www.nacd.net) to enhance online service to its association members and the packaging community as a whole. The site was redesigned to demonstrate NACD's taglines: "We Have the Power" and "Get Connected with an NACD Distributor."
The user-friendly design allows visitors to find member distributors, membership information, awards and events, and public relations and advertising information more quickly. A "members link" lists services available to members at discounted prices. These services include insurance, online recruiting, advanced data exchange, shipping, car rental, telecommunications, bank-card processing, and more.
Information about the Henry Hoffman Memorial Scholarship Fund is also included at the site. The program is open to students who have completed their junior year in high school and are children of employees of NACD member companies.
The site also includes an archive of past issues of Container News, the official NACD newsletter.
Companies in this article