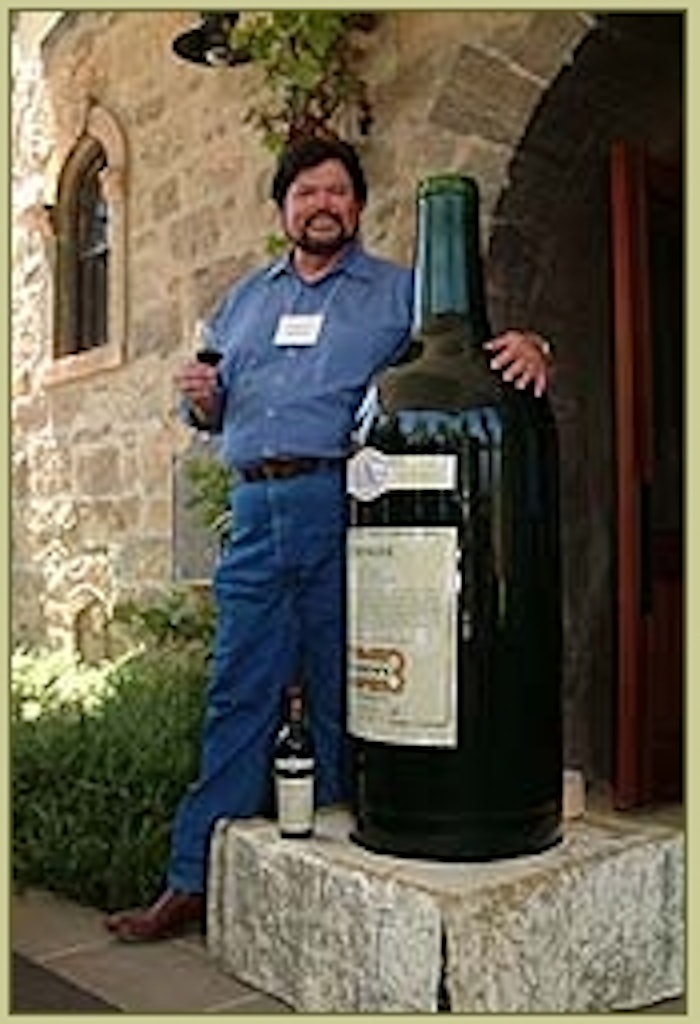 With the capacity of about 1겨 glasses of wine, this mammoth masterpiece of glassmaking artistry was certified by Guinness World Records on July 28 at a ceremony at Beringer Vineyards, where the bottle was carefully filled with 130 L of Beringer Vineyards 2001 Private Reserve Napa Valley Cabernet Sauvignon.
Dubbed "Maximus" by Fred Dame, president of the Court of Master Sommeliers, the bottle measures 4.5' tall and 4.5' around. Blown in the Czech Republic by Kavalier Glass Works, Maximus weighs 150 lb empty, 340 lb filled. The bottle is sealed with 5'' wide cork, presumably applied manually.
A duplicate bottle filled with water will make a coast-to-coast tour of 27 of the 61 Morton's restaurants in the United States to celebrate the steakhouse's 25th anniversary. In November the wine bottle (with contents) will be auctioned with 100% of the proceeds going to Share Our Strength, one of the world's leading hunger-fighting umbrella organizations.
The development of Maximus began late in 2003. The rest of this "big" story can be found at the Beringer Web site, including a downloadable fun facts page in PDF format.