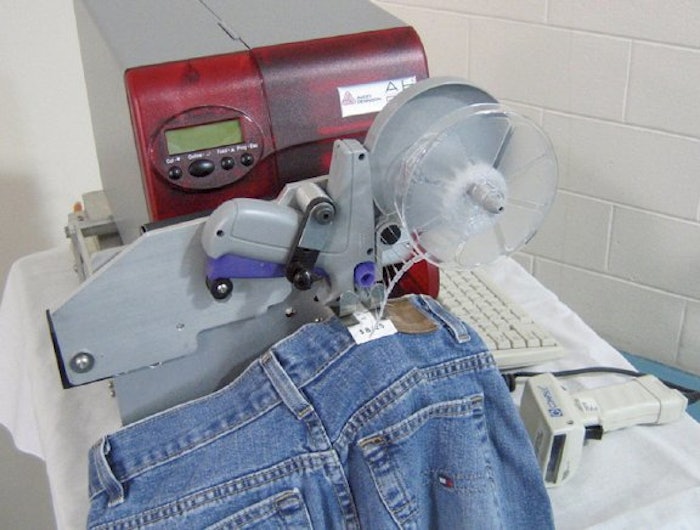 Called Avery Dennison Printacher™, the system brings productivity advantages to apparel makers and retailers who need to tag clothing with varying data. Operators can produce and affix to garments up to 20 tags per minute, nearly 10ꯠ tags per day. This production capability more than doubles the output of conventional processes, which often consist of tag printing followed by a time-consuming secondary attaching operation.
In addition to speed, the unit is designed for quality production and operator safety. The system's advanced thermal transfer print technology generates display quality alpha/numerics that complement promotional tag graphics and produces bar codes that meet all current retailer scan rate requirements. The pliable nylon fasteners that attach printed tags to garments are aesthetically superior to stables and safer than metal pins. Primary applications include pricing newly made goods at non-profit retailers and efficiently tagging garments in other applications like dry cleaning operations and laundering facilities.
The company estimates a single system will pay for itself in less than six months.
The unit is easy to use. The operator simply enters garment price or other variable data, along with the quantity of tags desired, places a garment over the system's mandrel and triggers the fastening process with a finger-controlled actuator lever. The lever is ergonomically designed to protect employees from repetitive motion hazards often associated with conventional tag attachment processes. Data entry can be completed via Printacher's integrated keyboard or from a computer's keyboard. The finished product is a neatly printed tag securely affixed to the garment via a thin, inconspicuous plastic fastener.
Printacher features Zebra emulation and prints at 203 dpi (with optional 305 dpi capability) on tags up to 4.1" (104mm) wide. The system produces all commonly used bar codes; prints in 17 fonts, including OCR-A, OCR-B and two scalable fonts; and supports True Type fonts. Compact flash cards and a 10-key touch pad with function keys are optional.
The base unit is priced at $5꿃.
IMPORTANT DISCLAIMER: This article was submitted directly to this Web site by the supplier. It has not been edited or reviewed by a Packaging World editor. It is presented on an as-is basis for your convenience. Packaging World assumes no responsibility for any inaccuracies.
Companies in this article