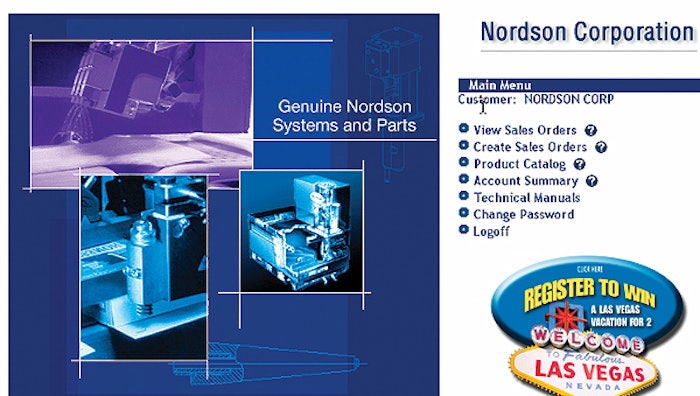 Anhalt, maintenance planner and scheduler, manages the parts inventory for the cheese packager's machinery that includes more than a dozen Nordson units.
"I've been placing all my orders with Nordson through their Web site," Anhalt says.
Anhalt says she has used the site twice monthly for the past two years. As recently as mid-November, she placed an order for several glue applicator heads and a glue system control board.
Many of those orders are through Nordson's Rebuilt Exchange (RBX®) program, in which Sargento exchanges nonworking parts for rebuilt parts. The site is www.nordson.com/packaging/ rbx.htm. "The site does a nice job of handling these transactions," Anhalt says, "and Nordson charges us less because it gets back units it can rebuild." Anhalt says a prepaid shipping label is sent via e-mail attachment so she can print it out and affix it to the returned item.
"On other Web sites, if I have something to return, I still have to make a phone call," Anhalt says. "Nordson's site makes these transactions phone-free and smoother."
Web view
At www.enordson.com, users log in via name and password to gain access to the site's main menu that has the following options:
• View Sales Orders
• Technical Manuals
• Create Sales Orders
• Change Password
• Product Catalog
• Log off
• Account Summary
Anhalt has used most of the features such as "View Sales Orders" and "Create Sales Orders." She has also perused the online product catalog. "It's helpful, and offers a search function," she points out. For customers unfamiliar with the site, Nordson offers a self-guided tour.
Another feature that she appreciates is e-mail order confirmation that includes the order number.
At her convenience
In the past and like most of her peers, Anhalt would place orders by phone.
"Using the Internet is speedier," Anhalt says. "I start work early, yet I can place my orders first thing and not have to wait for somebody to be there on the other end. I don't have to spend a lot of time with a phone in my ear, and I don't have to wait for a call back that, when it comes, I'm gone for the day. And if I am available, I don't have to spell my name and company address every time because that information is always stored in the Nordson system along with our account numbers."
Anhalt says her biggest single order has been a $9ꯠ purchase of glue applicators and parts, motors, and glue filters. "The site also allows me to use a credit card," she says.
"Nordson also has a nice tracking feature," Anhalt adds. "You receive a tracking number for shipping purposes. If you click on the link from the Nordson site, it takes you right to the United Parcel Service site, and you can see where your package is." That's done without having to re-enter any tracking numbers. She says in-stock orders are shipped out either that day or the next day.
"The site is good for order accuracy. It's far more efficient than if done by phone, and I have lot more information in front of me on their Web site," sums Anhalt.
Companies in this article