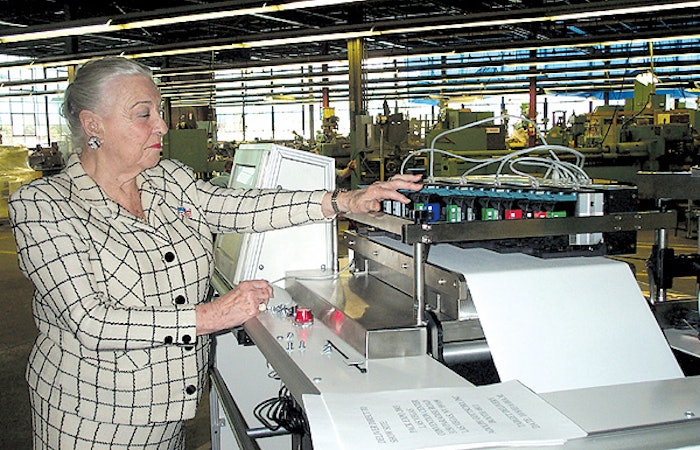 PW: Describe the significance of coding for packagers.
Gottscho: My late husband Ira once said in a speech many years ago, "there will be a code in your future." That future is here. Everybody who packages has to have a code. We all know the story of Tylenol and how important the code numbers were. Product is shipped all over the world with code marks and dates. And there's so much that the government wants you to add to packages, such as how many grams of salt, sugar, et cetera.
PW: What changes have occurred with regard to coding equipment?
Gottscho: We have grown a great deal with new technologies. The equipment is so simple now. And we're using water-based inks. I think the government is going to come out one of these days and say no ink can be used unless it's water-based. The key customer issues we see relate to equipment speed, having codes that are scannable, and that our equipment fits in as part of a packaging system, or line.
PW: The PEF inducted both you and your late husband into its Hall of Fame, and now your company has been recognized as Packaging Leader of the Year, an award more typically bestowed on a consumer packaged goods company. What's behind Adolph Gottscho's long-term success?
Gottscho: We're a privately-owned, independent company. We charge a fair price, we offer top-quality machinery, and we give marvelous service. Every customer is the most important customer to us, and we treat them that way. Recently, we got a call from a pharmaceutical firm with a problem at a plant in Puerto Rico. We called them and sent out a man to their plant that afternoon. We've always taken pride in paying our bills on time as well. As we look to the future, we're especially excited about our new relationship with Hewlett-Packard.
Companies in this article