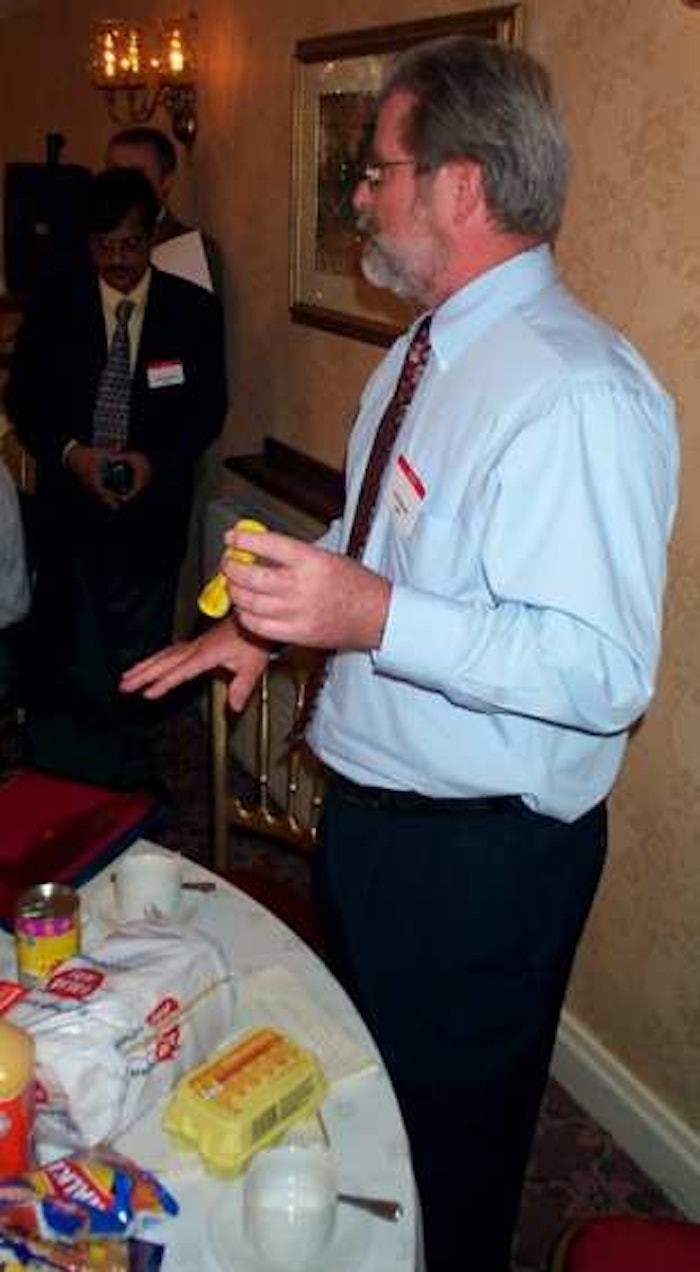 Following a working luncheon where representatives from Harland, Bradman-Lake, TNA, and Lock were able to talk with the journalists one-on-one, we were off to Sainsbury's, a leading supermarket chain in Britain. Knowing that packaging journalists worth their salt love to roam the aisles of a local food emporium whenever they have a chance, the intrepid organizers of the Inward Mission made sure we had that chance. They also split us up into four teams and asked each team to assume the persona of one of the following demographic types: yuppie, empty nester, middle income family of four, and single parent who is young and poor.
Each team was given £20 to buy whatever the team thought its demographic type would be likely to buy. The idea behind the exercise: to give packaging journalists an interactive role to play in an exercise that would remind them just how crucial a role packaging can play as demographically diverse consumers fulfill their shopping needs.
Long story short, the team to which I was privileged to be assigned was judged most successful in carrying out our mission. Who were the members of this shopping juggernaut, you ask? They were Jorma Hamalainen of Pakkaus, Finland; Ashok Kulkarni of Packaging Technology, India; Gerar Molenaar of VerpakkingsManagement-Verpakken, the Netherlands; and Irina Volkova of Tara & upakovka, Russia. (A photo of them at the Sainsbury's checkout counter is shown here; Also included is a photo of me explaining to the rest of the journalists why our group purchased what we did.) Nicely done, team!
By the way, many thanks to Keith Brackenborough of Sainsbury's, Tim Corvin of Siebert Head Design, and Chris Griffin at Pi3 design for lending their energy and input to this particular exercise. Look for Siebert Head Design and Pi3 design at the Total Innovation Design Center when the Total Show opens March 29.
Part 1: How Total came to be: A merger of Pakex and PPMA's Machinery Only show
Part 2: 21st-century packaging machinery trends
Part 3: New developments from U.K. machine builders
>>Part 4: Off to Sainsbury's--a tour of a U.K. supermarket
Part 5: Coors' new £35 million brewery
Companies in this article