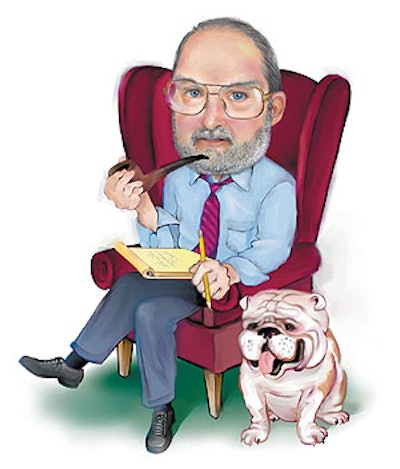 Combine the impact of Sept. 11 with the overall recession that has gripped most businesses and industries in the last year, and the total dynamic couldn't help but bring about change. Some of those changes are evident in a report in this issue (p. 194) that attempts to measure what the recession has done to packaging departments.
As we chronicle the devastating past year, it's vital that we look ahead to the future that we will all make and share. What better time to write about the future of packaging than in the final quarter of a calendar year as dismal as any year America has ever witnessed? Because the recent past has been so painful, perhaps the promise of the future will act as a strong tonic.
That's what we started thinking as long ago as Sept. 11, 2001, as Las Vegas faded in the rear view mirrors of two large vans that carried PW staff in a premature departure from Pack Expo Las Vegas. As the months passed and we continued to brainstorm about the future, we began to focus on a series of reports about the future of packaging. We weren't alone in our musings about the future. In England, Pira and the Faraday Packaging Partnership announced a conference using that very same theme, "The Future of Packaging."
In addition, Michigan State University was planning its Worldpak Conference to celebrate 50 years of that school's packaging program. Finally, as I reported last month, the Packaging Machinery Manufacturers Institute (Arlington, VA) was developing "The Conference at Pack Expo" that will be held during Pack Expo Intl. in Chicago next month. In all, nearly 200 papers were written for just these three conferences alone. So in many ways, Pira/Faraday, MSU, and PMMI were themselves assembling a broad assortment of experts and topics that would help provide a foundation for the reports we wanted to develop.
Using these programs as a springboard, editor Pat Reynolds and I began to shape and mold the research, which led to three subject areas: Packaging Technology of the Future, the Packaging Department of the Future (both in this issue), and next month, the Packaging Supply Chain of the Future.
Along the way, several other subjects were examined, some focusing on consumers and markets. Perhaps in future issues we'll pursue these other ideas for Special Reports.
But make no mistake, these reports are not simply condensations of presentations made for these conferences. We talked personally with virtually every one of an impressive group of participants. We did one-on-one interviews with them, expanding on some ideas from their formal papers and eliminating others. We added the insight of a whole host of other packaging people that Pat and I have come to know and work with in a combined 46 years of reporting on packaging developments.
What was gratifying to me was how receptive and cordial these experts were with us. Most of them have assumed more tasks and responsibilities in their companies during the last year or more, and some also operate in companies vastly changed in the last 16 months. Still, they found the time to pass along their concepts and their visions of how our roles in packaging will change in the years ahead.
Pat joins me in offering our thanks for their time and energy. For many reasons, we didn't get to talk with everyone we called. But I'm confident that as you read these reports, you'll be as grateful as we are to those who did share their thoughts for this project.
Just as so many in packaging come together at conferences, in these reports packaging leaders also come together—not in a location—but in their ideas.
See an archive of Arnie Orloski's Pipeline columns at www.packworld.com/pipeline.
Arnie can be reached at orloski@packworld.com
Companies in this article