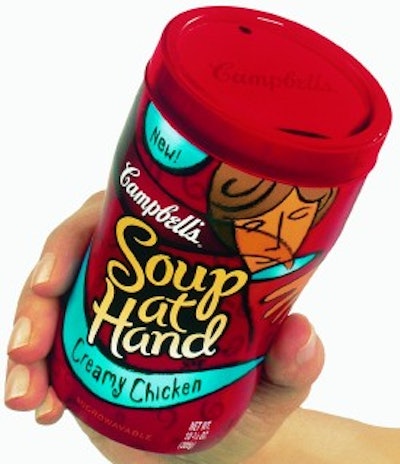 "Our 'Soup at Hand' package was an excellent opportunity to leverage the investment we had previously made when we introduced our 'Soup to Go' varieties in microwavable bowls," says John Faulkner, Camden, NJ-based Campbell's director of corporate and brand communications. "We use similar materials, but the 'Soup at Hand' package is designed for on-the-go handling and sipping."
According to Faulkner, the shape and size of the container gives consumers the familiar look and feel of a coffee mug, but without a handle. The gripable-shaped container, made of high-density polyethylene, conveniently fits into a car cup holder. A red plastic overcap that has a slot for sipping is removable so that an aluminum ring-pull lid can be removed before heating.
The graphics, designed by Fisher Design (Cincinnati, OH) are flexo-printed in four colors on a coextruded oriented polystyrene wraparound label supplied by American Fuji Seal (Bardstown, KY). The foam label provides insulation to keep the product hot while the outside of the package is comfortable to touch.
"The eye-catching design leverages our Campbell red and white equity on the shelf," says Faulkner. "There are no other similar packages on the market."
Launched nationally last September, Soup at Hand retails for $1.49 in four varieties.
Companies in this article