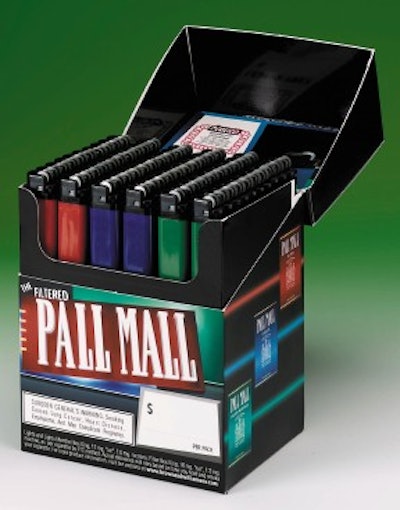 The box is supplied by Neff Packaging Solutions (Dayton, OH), which provided structural design through assembly and finished packaging. G2 (New York, NY), a division of Grey Global Group, created the graphics design. The lighter box was introduced nationwide in early Fall 2001 at gas/convenience stores to support of six varieties of Pall Mall filter cigarettes that had been introduced earlier last year.
Clutter cutter
"The idea is to build brand awareness and cut through the clutter at retail," states Bruce Coley, B&W senior brand manager.
Neff manufactures the boxes from 24-pt SBS offset-printed in six colors with UV coating. Inside the box is a five-panel unprinted protective SBS cover for the lighters, a B&W instruction sheet for setup and display, and a color image of the setup. The instructional sheets help clarify the setup for store display. The inside of the hinged lid contains a printed and glued UV-coated 24-pt SBS insert that acts as a colorful billboard on display. The box is marked by the retailer with the price of the cigarettes on the outside and the price of the lighter on the inside of the lid.
"Retailers could sell the lighters for whatever price they want, all we asked is that they place the display in a self-service location on counters and advertise the price of the cigarettes along with the price of the lighters," Coley explains. "It worked quite effectively."
Yes, it's free
In fact, Coley says retailers were "ecstatic" about the promotion. And for good reason: B&W offered it to them for free. "Frankly, [retailers] were unbelieving when our salesman walked in and told them they could have it for free," he says. "A retailer could sell the lighters for $1 apiece and make $60. It was hard for them to say no." The payback is front counter brand recognition for Pall Mall, which is shelved with other brands behind the counter. The box effectively links the countertop lighters with the back-of-counter cigarettes.
"This effort satisfied the simple objectives of creating awareness and presence, communicating the proposition, and offering retailers a tremendous value," says Coley, "so it accomplished quite a bit for us."
The promotion, which involved approximately 90ꯠ units, will be rerun this summer.
Companies in this article