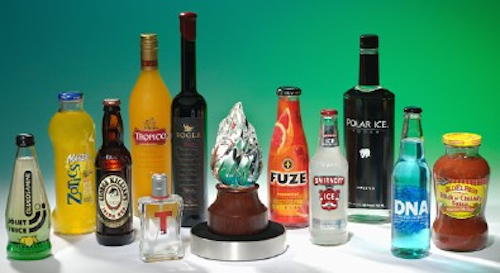 Category: Package Design
Smirnoff Ice
Category: Success Story
Smirnoff's newest product sales grew to over 25 million six-packs in its first year of distribution. The 12-oz clear glass bottle features the "Pierre Smirnoff" name embossed on the shoulder and a metallic silver pressure-sensitive label.
Killian's
Category: Beer
Coors Brewing increased consumer awareness of its famous red brew around St. Patrick's Day by introducing a specially labeled promotional package. Coors added clear pressure-sensitive labels and a promotional piece to its existing glass mold.
DNA
Category: Malternatives/flavored alcoholic beverages
Wet Planet Beverages' DNA features a clear pressure-sensitive label with phosphorescent labels that glow in the dark when exposed to nightclub black lights.
Tropico
Category: Distilled Spirits
Bacardi's Tropico is a premixed rum and citrus cocktail. Designed to emphasize the leisurely spirit of the tropical islands, a tapered cylindrical flint glass bottle is used to create a bright frosted effect when filled with the cool, refreshing beverage.
Joint Juice
Category: Carbonated Beverage
The design of the bottle makes it easy to open for consumers and hold. Joint Juice also stands out from the competition with bright colors and graphics accentuating a uniquely shaped bottle.
Fuze and Mistic Zotics
Category: Non-Carbonated Beverage
Fuze Beverage uses vibrant color schemes and a smooth flowing glass container. The slender shape conveys a sense of healthy refreshment. The shelf appeal has more than doubled demand in the last year. Cadbury/Snapple's Mistic Zotics use a 20-oz triangular-shaped glass bottle to create a distinctive image. The label displays the area of the world where the fruit is grown.
Old El Paso's Salsa
Category: Packaged Foods
General Mills reintroduced its salsa in an upscale, unique package with specific emphasis on pourability and gripability, based on focus group studies. The clear glass and small label graphics allow the product color and freshness to show through while maintaining brand equity with Old El Paso red roof tile and yellow background with its familiar lettering font.
T for Him
Category: Cosmetic and Fragrance
Estee Lauder's T for Him features a classically designed bottle that sports clean, masculine lines. Tommy Hilfiger has built a strong brand recognition that the Red "T" letter design says it all.
For more information, call the GPI at 703/684-6359, or visit their Web site at www.gpi.org.
Companies in this article