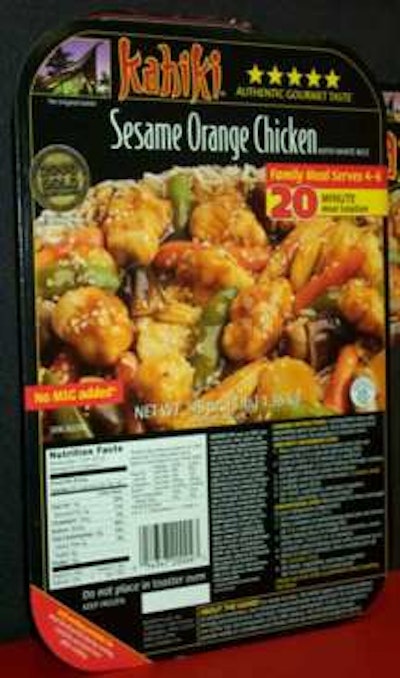 Latest breakthrough from lid supplier U.K.-based Print Design & Graphics, is the plastic-coated paperboard lid, which enables a peelable opening on the CPET tray supplied by by Mullinix Packages, Inc. (Fort Wayne, IN). The package is dual-ovenable, and when used in a microwave the lid is self-venting.
The lid is heat-sealed to the CPET tray on a Gralex (Lewis Center, OH) Model RHS-6 rotary heat sealer, which was on display at the Gralex booth. Gralex claims the Model RHS-6 is the first machine that can place a peelable lid on a CPET container.
Graphics are offset litho printed with UV inks and coatings. The new Kahiki 48-oz (3-lb) family-sized frozen dinner line is available at retail stores, including Wal-Mart and Sam's.
Companies in this article