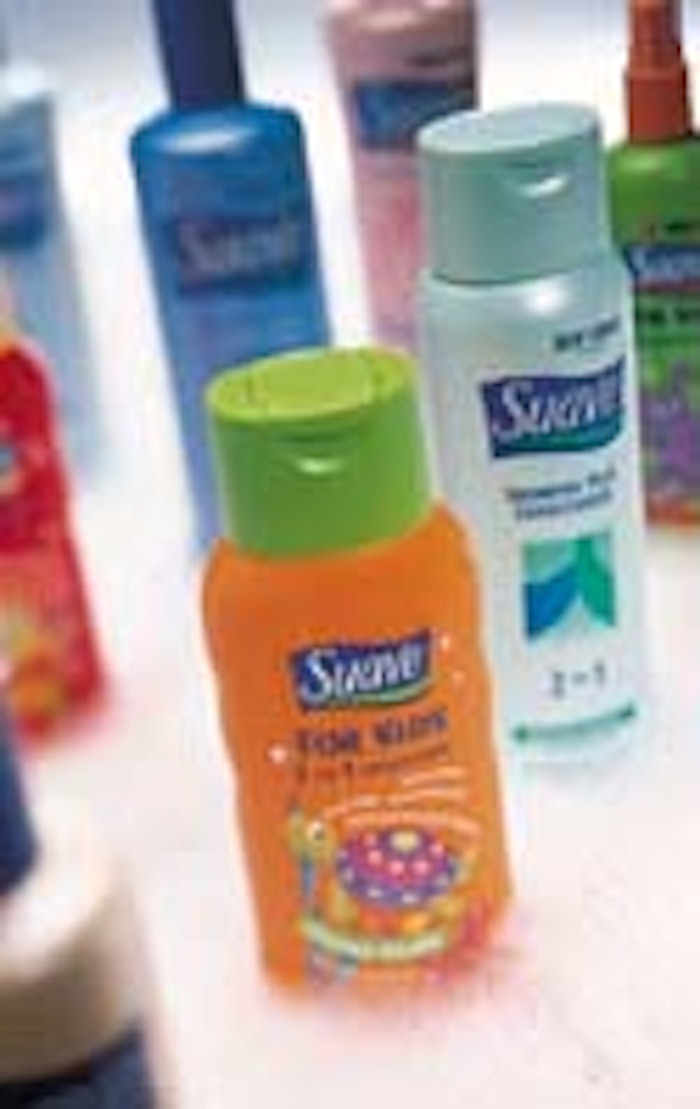 (McHenry, IL) to help create a color-enhanced shelf presence for both new and existing products. The result was a cohesive color scheme that affordably unified all 15 SKUs in the line.
The entire Suave product group is marketed in extrusion-blown, three-layer, high-density polyethylene bottles, a trend that is "up-and-coming," according to Clariant.
"We wanted to create a heightened shelf presence that would signal a difference in consumers' eyes," says Ralph Blessing, marketing director for Suave masterbrand. For example, each Suave For Kids® bottle contains a middle layer masterbatch of high-opacity white colorant, which provides a bright undertone and reflection through the primary color on the outside layer of the bottle.
To unify the rest of the line with a more "upscale" look, Clariant planned a two-part color scheme for each bottle. Each bottle is a different color—ranging from dark pearlescent blue to light strawberry—with a pearlescent outer layer masterbatch to tie all the products together with a polished look. Prototyped by Clariant, the custom bottles are extrusion blow-molded by two different blow molders; they also screen print the Adult and Thermal products and apply labels for the Kids items.
"The Suave restage has been a great success," says Blessing. "Sales have increased by 15 percent over the previous year. A large part of that success has been the heightened shelf presence created by the new packaging designs."
Suave hair care products range in price from 97¢ to $3.12 and are available nationwide.
Companies in this article