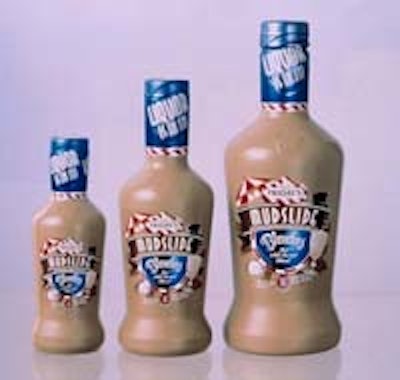 United Distillers & Vintners-Northeast, Stamford, CN, relaunched T.G.I. Friday's™ frozen cocktails with a new name, T.G.I. Friday's Blenders™ and a new premium look. The bottled products feature more user-friendly, ergonomically designed packaging. The redesign targets women, the main users of the products.
"We are excited about the relaunch of the branded cocktails with new packaging," says Janna Markle, director of brand licensing for T.G.I. Friday's. "We think this is a fresh and innovative look for the line that will help it maintain its position as the category leader in prepared cocktails."
The cocktails are sold in three bottles of a proprietary design: a 1.75-L bottle molded of polyethylene terephthalate by Schmalbach-Lubeca (Manchester, MI) ) and 375-mL and 750-mL glass bottles from Owens Brockway (Toledo, OH).
Started with PET
"The 1.75-L bottle is the majority of our business, so we started the redesign effort with that size," UDV-NE director of package marketing Christina Catalano tells Packworld.com. She adds that the glass bottles are downsized versions of the 1.75L PET bottle without the handles as the shape makes the bottles easy to grip and pour. Design firm Ceradini Design (New York City) worked in conjunction with a structural engineer Stuart Lee of Prime Studio (New York City) on the bottle design.
Once the particular design had been chosen by consumers, the design was turned over to Schmalbach-Lubeca, which prepared it for production, she says.
"This product is mainly used by women, so we wanted to make sure that the bottle would be easy for them to lift and pour," explains Catalano. "The bottle is designed to have plenty of palm contact and a good finger grip. Overall, we are really pleased with the results. We feel that not only does this redesigned bottle reflect the high quality of the product, but it also is very functional for consumers."
Graphics updated
The graphics also received a makeover. ``Since a consumer's eye only lingers on each product for three seconds or less, we needed a name and package that would clearly communicate T.G.I. Friday's Blenders' position as the fun and innovative cocktail,'' says Michelle Riley, UDV-NE associate brand manager. ``Research indicates that consumers are confused in the current liquor store environment. They are unsure as to which products are simply mixers, which include alcohol, how to make the drinks, and how many drinks are in each bottle.''
To communicate the brand's key benefits, the redesigned package states `The liquor is in it' and `Just add ice and blend,' as well as the number of drinks that can be made per bottle. Consumers can instantly know that T.G.I. Friday's Blenders, such as frozen Mudslides and Pina Coladas, include premium liquor. UDV-NE licenses the T.G.I. Friday's brand name from the restaurant chain.
Companies in this article