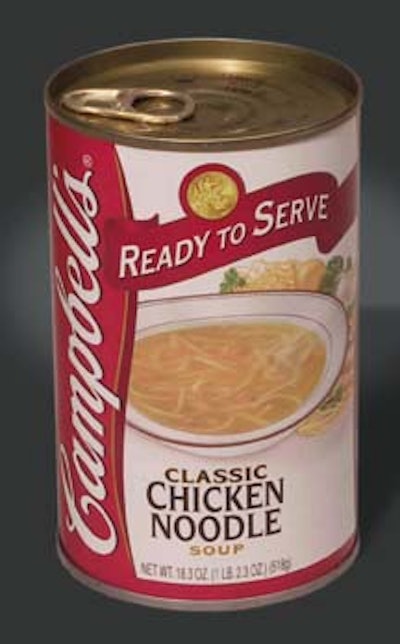 Some 70 soup varieties—including the Chunky, Select and Healthy Request lines—will have the new ends beginning in July.
"Making our great soups even more convenient is a key element of our soup strategy," says Campbell's F. Martin Thrasher, president of North America soup and sauce.
According to Campbell spokesman John Faulkner, the steel can bodies are from Silgan Containers (Woodland Hills, CA) and the 303 ring-pull steel ends are from Phoenix Packaging (North Canton, OH). Faulkner acknowledges that the easy-open end costs more than its predecessor, but the difference, he says, is modest.
When asked why Campbell's condensed soups remain in a can without an easy-open end, Faulkner explained that the emphasis on convenience inherent in ready-to-serve soups made them a more obvious candidate for an easy-open end. But, he adds, "We'll consider other applications."
This is the first easy-open end, says Campbell, in the branded soup category in the U.S.
Companies in this article