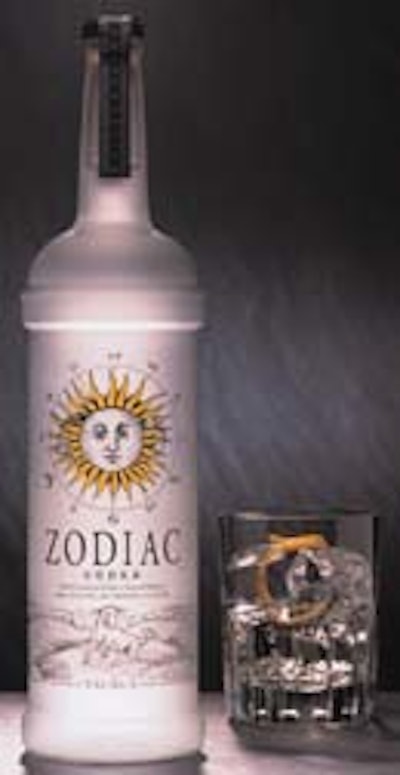 The signs of the zodiac will be featured as the decorating theme for Zodiac vodka, a new premium-priced spirit from Koan, Inc., Royal Oak, MI. The 1-L glass bottles are imported by Demptos Glass (Louisville, KY); the bottles are made and decorated by BSN (Cedex, France). The decorating combines acid etching and ACL printing.
The designer for each of the 12 bottles is Flowdesign (Tampa, FL). The company is headed by Dan Matauch, an award-winning designer with degrees in both package design (Michigan State) and business administration (U. of Tampa). "The artistic nature of his design portfolio was simply amazing," says Marc Beginin, president of Koan. "The fact that he also held an MBA made me realize this was no average designer."
After 18 months of development, the first two designs (Taurus and Gemini) reached retail shelves in Michigan, Idaho and Colorado this summer. Others in the series became available in other markets later last year, and the final de"signs" will be available soon. "It's the package that most often leads to trial," says Beginin. "And the designer's wonderful embodiment of the Zodiac concept makes our job of marketing much easier."
In a hurry? Request more info via Web-based reader service by clicking on company name.
Or you can jump right to their Web site if it's listed.
Companies in this article