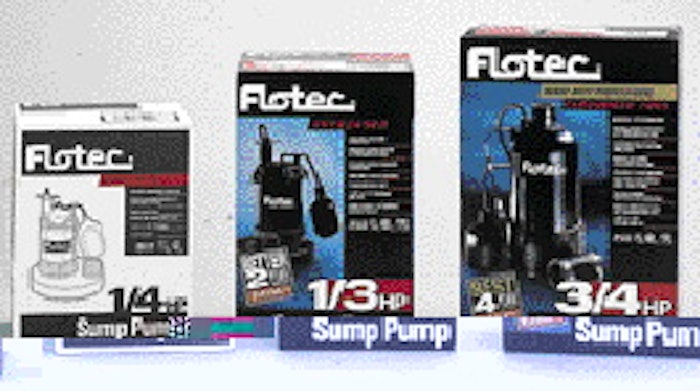 Introduced in August, each package clearly identifies product specifications and installation instructions. Moreover, the information is in English, Spanish and French, which makes it suitable for markets throughout the NAFTA trading region.
"Our focus group research told us we need to be very clear in communicating to end users not only about product features and benefits, but also about how to use and install Flotec products," says Tom Strupp, vice president of the Water Systems Group for Sta-Rite Industries, Flotec's parent company.
All the cartons, supplied by Castle Rock Containers (Adams, WI) and Printron (Neenah, WI), are made of 200#-test E-flute corrugated. But graphics vary considerably to emphasize the different price points. Products at the low end have cases whose uncoated outer linerboard is post-printed flexographically in black and white line art. For products priced in the middle range, preprinted linerboard is used. The 80# paper stock is coated and printed offset in four or six colors.
At the high end of Flotec's product range, cartons again have 80#, coated, preprinted linerboard as the mid-range items do. But they feature more dramatic photo images and use a spot of gold ink to note "Heavy-duty professional" and "best" positioning. A sump pump in this high-end category retails for $175, while the least expensive Flotec sump pump sells for $75.
Companies in this article