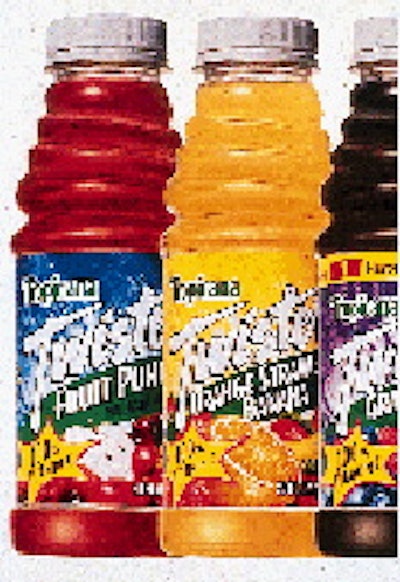 The idea, says Tropicana associate marketing manager John Cash, is to have the plastic bottle phase out the 20-oz glass bottle currently used.
Like the 1.75-L Twister bottle introduced earlier last year (see Packaging World, March '98, p. 2), this bottle has the same tornado-like effect suggestive of the product's name. The container also incorporates a UV inhibitor. According to Tropicana manager of product communications Meghan Parkhurst, the inhibitor helps make it possible to fortify the drinks with 100% of the recommended daily value of Vitamin C. Without the UV inhibitor, vitamin degradation would occur too quickly.
Neither Tropicana nor CPT would describe the structure of the bottle. But one industry observer believes it to be similar to the VeryFresh(TM) bottle used by Veryfine of Westford, MA, for its line of 16-oz shelf-stable fruit juices (see PW, November '98, p. 2). That co-injection stretch/blow-molded and hot-filled bottle, more than one-third of which is post-consumer PET, is also supplied by CPT.
Cost comparisons on plastic and glass were not available from Tropicana, though Cash did say that consumers can expect to pay the same $1.09 for the 20-oz plastic as they currently pay for 20-oz glass.
"The Twister consumer prefers PET," says Parkhurst. The switch from glass to plastic, she adds, "Was consumer-driven, not cost driven."
Companies in this article