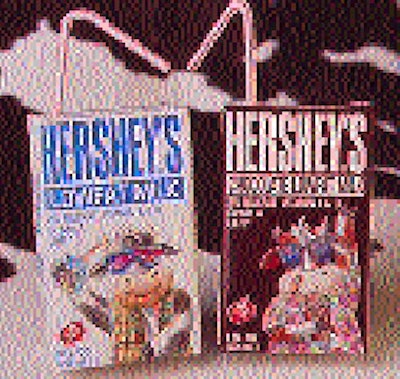 Lately, more marketers are betting that U.S. consumers can be won over because improved processing systems virtually eliminate that unfamiliar "cooked" flavor.
The first was Parmalat (see Packaging World, August '94, p. 2), a U.S. division of an Italian firm. Linked to Europe as it is, its belief in the marketability of aseptic milk is almost predictable. Now comes the launch of low-fat milk in 8-oz aseptic boxes from a quintessentially American firm: Hershey, PA-based Hershey Foods Corp. Both 2% chocolate and 2% white milk, packaged by Hershey at Savannah, GA, began shipping nationwide in December. Aseptic packaging equipment and materials are supplied by Tetra Pak (Chicago, IL).
No stranger to aseptics, Hershey has marketed a line of milk drinks in aseptic boxes since 1990. These products, though milk-based, also contain water and flavorings that can mask any carmelized flavor in the milk.
The introduction is aimed squarely at school children and the parents who shop for them. What's significant is that this product is not a drink in an aseptic package but rather a low-fat milk. It's being rolled out nationwide by a well known food marketer and is being promoted with regional television advertising.
Tetra Pak Inc., Fax: 312/553-5151.
Companies in this article