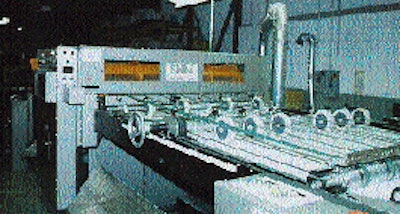 In combination, they produce a 20% production increase and a reduction of one week in leadtime.
Installed in January '94, the converting machinery was purchased "primarily to shorten turnaround times, and to run paperboard," says Gamse president and owner Dan Canzoniero.
The sheeter prepares press-ready sheets in-house, from rollstock, saving the cost and time of buying cut-to-order stock.
Unlike Gamse's in-line sheeters, the new unit runs off-line, allowing it to work with the new 40" press as well as an existing 60" four-color press. The new sheeter accommodates a 56" web and operates at speeds to 1ꯠ fpm, enabling press speeds of 12ꯠ to 12귔 impressions per hour, some 2ꯠ to 2귔 more than other machines Gamse uses. The higher speeds have allowed the converter to shorten order lead times by one to three weeks as opposed to two to four previously.
With the new equipment, Gamse can produce uncoated, coated and metallized paper label stock and paperboard. Samuel Adams, Snapple, Hershey and Harley-Davidson are among the converter's more than 300 customers.
Companies in this article