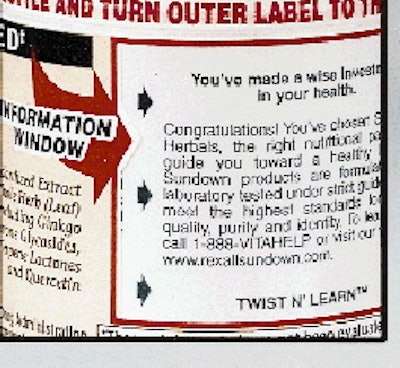 The two-ply label carries product name, usage information and supplement facts on its exterior ply. Its inner ply, visible through a die-cut window (inset), provides added information that can be viewed by turning the outer ply.
The label converter is CCL Label (Rosemont, IL), which calls its patented label Spinformation®.
Copy and arrows instruct consumers to hold the bottle and turn the outer label ply to the right to view information on the inner ply. Four panels printed on the inner ply display the herb's origin, active ingredients, potential benefits and other herbal supplements.
Label specifications and application details were unavailable at press time. Spinformation is a 4.8-mil structure that may be printed in up to seven colors.
Boca Raton, FL-based Rexall's herbals are sold at food, drug and mass merchandise outlets. "This remarkable innovation delivers accurate, reliable information to consumers in an easy-to-read format right where they need it most," relates Staci Glovsky, director of marketing for Sundown Herbals and diet brands.
Companies in this article