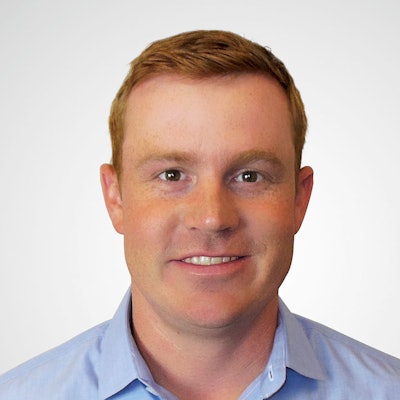 Virtual and augmented reality seem to be gathering adoption momentum. As far back as 2016's PACK EXPO International and 2017's interpack, forward-thinking packaging OEMs and controls suppliers were setting up VR and AR demonstrations in their booths. Now these early prototypes have become more sophisticated. More important, they're turning the corner application-wise. No longer mere demo gadgets, they've become meaningful support tools for things like training activities, real-time remote access, or onboard instructional videos.
Plus, early doubts about the relative utility of Google Glass (too dainty) and HoloLens (too bulky) in a manufacturing or production setting are being addressed via newer hardware iterations, and there are now more than just two players in the game.
Cobots are having an increasing impact on packaging systems, and it's more than evident from walking the show. I'm old enough to remember when the carefully gated robotic hulks, once reserved for at or near the end of the line, had to be treated with such caution and respect. It's still a little surprising to see these cobots roaming around out in the wild (to the extent that they can), free of any enclosure, right out there next to the aisles where attendees, even kids, are free to interact with them. Again, sophistication has improved so that OEMs, integrators, and robotics suppliers are perfectly confident in their safety. Ongoing shortages in skilled labor maintain the drumbeat towards not only automation, but automation designed to work seamlessly with existing operators. It's more than a little ironic that just as cobots seem to be reaching an adoption threshold, we're saying goodbye to the now-shuttered Rethink Robotics and its Baxter, the cobot that gave this segment such a boost in the early days.
The success of the Amazing Packaging Race among other school-aimed and socially responsible programs led several exhibitors to mention these programs' utility as recruitment tools. Beyond merely being a good exercise for the industry and good for the next generation, exhibitors participating in the Amazing Packaging Race enjoy increased familiarity among a highly targeted and uniquely motivated cohort of future packaging professionals. Perhaps an even more on-the-nose program when it comes to workforce development, CareerLink, PMMI's online job board, went live at PACK EXPO. Participating companies conducted live interviews with prospective employees during the show. A number of other programs—the Packaging & Processing Women's Leadership Network, for instance—are altruistic in their goals, but CPGs and brand owners are extracting real workforce development value in the relationships they make and seeds they plant by participating.
Finally, a word about a PACK EXPO revelation that had nothing to do with what was on display at a booth. It came from some helpful criticism I heard from readers at the show. What I learned is that unless we're outwardly and visibly telling you what an article is about (like Greener Package or Shelf Impact), it can be tough to know what you're getting into before reading one of our features. Many of you may pass by articles that aren't visibly and obviously labeled as discussing sustainability, or e-commerce, or biopolymers, etc. Though not always evident in the headline, most feature stories are replete with those major discussion points, and we have a few ideas up our sleeves on how to help you find the subject areas you want. But in the meantime, I'd encourage you to spend some time using the search function on www.packworld.com. Look for a box on the upper right side where it says "Type in your search criteria." It's a remarkable tool for quickly finding pools of coverage on topics near and dear to your heart—and it's right at your fingertips.