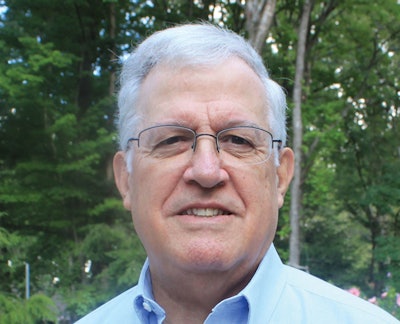 That's when U.S. machinery makers engineered automatic equipment to unwind a web of film, fold it lengthwise into a tube, heat- and pressure-seal the bottom of the tube into a pocket, drop product into the pocket, seal the pocket closed, and cut the formed and filled tube away from the web, simultaneously forming the next pocket.
This technology has transformed American packaging from the operational business model prevalent in many places of the world, namely the made-somewhere-else-and-filled-here model, to the made-and-filled-here model.
In its early days—long before someone thought to squeeze sour cream out of a stand-on-its-head pouch—f/f/s machine technology transformed the candy and snack industry, obsoleting the metal tins, glass jars, and pre-formed, hand-pressed waxed paper bags previously used to package sweet and savory snacks. The f/f/s system developed by those inventive packaging machinery engineers was the first small pulse of a vibrant, new generation of a lighter, more convenient food packaging systems and formats that continues to evolve today. Witness KraftHeinz's Just Crack an Egg® line, a quick, portable meal with f/f/s technology at its core.
Before f/f/s, food packaging was a rigid business, shipping impenetrable-without-an-opener tinplate cans and heavy glass jars with metal continuous thread (CT) or lug closures that offered only slightly easier content accessibility. Breakfast was an almost exclusively at-home, sit-down meal. It included some combination of cereal, milk, eggs, bacon, sausage or ham, toast, juice and coffee, tea, or cocoa. Each ingredient was separately packaged and needed to be prepared individually. The meal was consumed with metal utensils off ceramic ware at a table referred to as the "breakfast table." Everything—dishes, forks, knives, spoons, cups, glasses, and the table—had to be washed (usually by Mom) once you were done.
And don't forget all those partially filled and hastily reclosed packages you had when breakfast was done. Cold cereal came in paperboard boxes with glassine inner liners. Hot cereal (oatmeal, mostly) was packaged in spiral-wound cylindrical paperboard canisters with telescoping lids. Some of us can still remember when the milkman delivered eggs in 12-celled paperboard folding cartons and milk and cream in returnable glass bottles with paperboard disc plugs and fluted paperboard overcaps. "Store bought" bread first came in cellophane wraps, later in printed polybags held closed with wire and paper twist ties. Those of you of a certain age might still remember getting lard-like white blobs of refrigerated oleomargarine in clear flexible Pliofilm pouches with red bubbles of food coloring that had to be kneaded to transform the greasy white mass into a more appetizing, butter-like yellow.
Contrast all those pre-f/f/s breakfast options to KraftHeinz's Just Crack an Egg® scramble kit offering. This portable, eat-it-any-time serving consists of individual pouches of Kraft cheese, Ore-Ida potatoes and Oscar Mayer meat (all KraftHeinz brands, by the way) inside a microwaveable polypropylene cup. Open the cup, empty the pouches into it, add an egg into the cup, mix, and microwave for a hot breakfast in less than two minutes. An eggshell and a couple of ounces of packaging detritus is all that's left after you've eaten. At retail, the pouches-in-cup item is displayed six to a four-color printed retail ready (RRP) paperboard carton stacked three high in a single facing. But one can't help wonder how long it will be before the f/f/s technology continuum expands yet again and we see a "family pack" of scramble kits—perhaps a handled flexible bag—replacing the paperboard RRP and doubling as a take-home assortment pack.