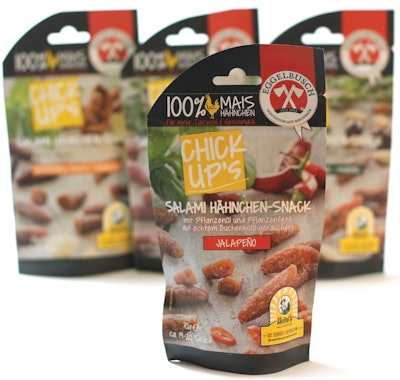 Well known to consumers in Germany since the 1930s, the Eggelbusch brand is famous for smoky-savory summer sausages. Among the firm's most recent additions is ChickUp's, a line of salami snacks in four different flavors based on 100% corn-fed chicken. This new line made its debut in the SchurStar stand-up pouch from Schur, a format that's all about shelf impact, convenience, portability, and on-the-go snacking (for a video of the technology, go pwgo.to/3498).
According to Snezana Schurmann, Managing Director at Eggelbusch, which is based in the German town of Harsewinkel just north of Dortmund, the SchurStar packaging solution was selected for several reasons. The fact that it was a turnkey solution was perhaps most compelling. Not only does Schur supply the equipment, it also supplies the pre-made pouches. "We wanted to get this new idea of ours into the hands of consumers as quickly as possible," says Schurmann. The all-in-one nature of Schur's offering seemed like the best way to go, she adds.
Using bag-making equipment developed in-house, Schur makes the stand-up pouches from a three-layer adhesive lamination of paper/metallized polyester/coextruded polyethylene and EVOH. Prior to the lamination process is flexographic printing of the paper layer on a 10-color Windmoeller & Hoelscher press.
The pouches arrive at Eggelbusch joined together and layered in a corrugated shipper. The operator feeds the lead pouch into the SchurStar system's side grippers, which are responsible for advancing the pouches through the filling and sealing process.
Just ahead of filling, the machine at Eggelbusch has integrated into it a Videojet ink-jet coder that puts date and lot code information on each pouch. Product is then deposited into the pouches by a combination scale developed in-house by Eggelbusch technicians. Just ahead of the depositing station, the pouches pause so that a burst of air can be blown in to make sure the pouch is open wide and ready to receive product.
Also ahead of sealing is a station for evacuation of ambient air and a backflush of CO2 and nitrogen that, combined with the gas-barrier components in the flexible film composition, helps give the product a one-year shelf life at ambient temperatures. Laser scoring provides ease of opening in the hands of the consumer, and a zipper reclosure feature that is pre-applied by Schur adds more consumer convenience. After filling, which is done through the bottom of each pouch, the heat sealing process not only closes each pouch but also separates that pouch as an individual unit distinct from the others.
"Naturally spiced, bite-size portioned, and practically packaged," says the Eggelbusch Web site, ChickUp's are perfect for "on the go, on the playground, or in the office." The 70-g portions are available in Germany for between 2 and 3 Euros. Schurmann says distribution in the U.K. is coming soon.
Companies in this article