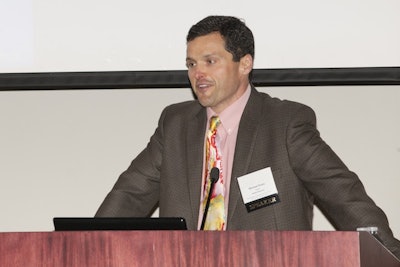 Nanotechnology? I've heard of that. It involves really small stuff but it's all science fiction and it will be 50 or 100 years before we have any real products.
If this is your view of nanotechnology then it's time to take another look. In fact, we have a number of nanotechnology products on the market today. "Nanotechnology Market Outlook 2020," a research study from ResearchAndMarkets, anticipates the global nanotechnology market to advance at a Compound Annual Growth Rate of around 16.5% between now and 2020.
Nanotechology and nanomaterials are already used in consumer products such as paints, cosmetics, sunscreens, and even foods. Some companies may not even know whether nanomaterials are present in their own products! For example, 10 varieties of powdered doughnuts were tested for nanoparticles—two major national brands tested positive for titanium dioxide used to brighten white substances and are currently under investigation by the EPA. (See "Study Looks at Particles Used in Food," in the Feb. 5, 2013 New York Times.)
Everyone knows nanotechnology involves small stuff. But how small is small? Technically, nanometer means one-billionth of a meter. But more importantly, size is a continuum. Years ago, Dr. Seuss's "Horton Hears a Who" did a great job illustrating the size continuum. So, today it's nanotechnology. How long until we talk picotechnology (one-thousandth of a nanometer) or femtotechnology (one-millionth of a nanometer)? Some of us are already working on these right now!
So why don't we hear more about products that already contain nanomaterials? One reason is the negative connotation of the word nanotechnology. Another reason is that companies are often not required to tell us. Like the word "nuclear," nanotechnology is still scary to many and as a result, companies don't want to scare off their customers—not if they don't have to!
In medicine, there are several advantages and challenges that nanomaterials provide. Many drugs—and virtually all biologics because of their relative large size—will not make it through the blood-brain barrier, or semi-permeable membrane that filters out potentially toxic materials from the central nervous system just like a package protects its contents from the outside world.
However, one advantage of nanomaterials is that because they are so small, they can get everywhere in the body. One of the disadvantages of nano materials is that because they are so small, they can get everywhere in the body. So size is both a blessing and a curse. For my packaging friends, here's a question to ponder: Since nanoproducts can move through virtually anything, how do you plan to keep your nanotechnology-based products in a package? How do you ensure there is a barrier that keeps nanoproducts either in or out?
From a medical device perspective, there are many materials that we have been using to make medical devices for decades. At the macro level these are perfectly safe, yet some of these same materials, at the micro or nano level can become extremely cytotoxic. So if we approach new technologies like nanotechnology, tissue engineering, personalized medicine, etc., the way we have approached other technologies in the past, we are setting ourselves up for some potentially huge disasters. However, let me be clear: I am not against these technologies. On the contrary, I am a huge proponent of all of them. But we must face them with our eyes open and not be biased by the way we have done things in the past.
From a regulatory perspective, nanotechnology presents some huge challenges. Simply put: our current regulatory model was not designed for revolutionary technologies like these and this is really holding us back. True, both the U.S. and E.U. regulatory authorities have recently issued guidance in these areas, including the following:
• Guidance on the Determination of Potential Health Effects of Nanomaterials Used in Medical Devices (EU, July, 2014)
• FDA issues guidance to support the responsible development of nanotechnology products
• Considering Whether an FDA-Regulated Product Involves the Application of Nanotechnology (June, 2014)
• Guidance for Industry: Safety of Nanomaterials in Cosmetic Products (June, 2014)
• Guidance for Industry: Assessing the Effects of Significant Manufacturing Process Changes, Including Emerging Technologies, on the Safety and Regulatory Status of Food Ingredients and Food Contact Substances, Including Food Ingredients that Are Color Additives (June, 2014)
Yet more regulation will neither solve nor prevent problems. In fact, maybe we need a completely new (revolutionary?) regulatory model—don't think it can happen? Not so fast… last year FDA Commissioner Hamburg announced she was forming a "Program Alignment Group" to look for ways to bring better alignment between FDA's different centers. "This is a critical endeavor since more of the products FDA is tasked with regulating don't fit into the traditional categories in which FDA has historically divided its work. Many new medical products transcend boundaries between drugs, devices, and biologics. Many cosmetics contain particles that mirror the nano-technology found in devices. Many foods have drug-like features. In such a world, the boundaries between FDA's different centers may no longer make as much sense. Regulation is increasingly being based on the function of a product, rather than its traditional definition of food, drug, device, biological, and cosmetic. But will FDA have the fortitude to break up its existing functional divisions, and adopt a real program orientation? It's unlikely to happen in the near term. There will be a lot of internal resistance. A major re-organization will create a lot of dislocation. Big bureaucracies don't respond well to this sort of dramatic change." [Did FDA Just Announce A Major Reorganization?] (Forbes, Sept. 8, 2013)
Carl Sagan said, "Science is a way of thinking much more than it is a body of knowledge." What's my spin? Regulatory affairs is a way of thinking much more than it is a body of rules and regulations—or at least it should be! This is what all of us must do reap the benefits that biomedical nanotechnology offers while simultaneously avoiding the potential dangers it poses.
—Dr. Michael Drues is president of Grafton, MA-based Vascular Sciences (www.vascularsci.com), an education, training, and consulting company. He can be reached on Linkedin®, by phone at 508.887.9486, and by e-mail at mdrues@vascularsci.com