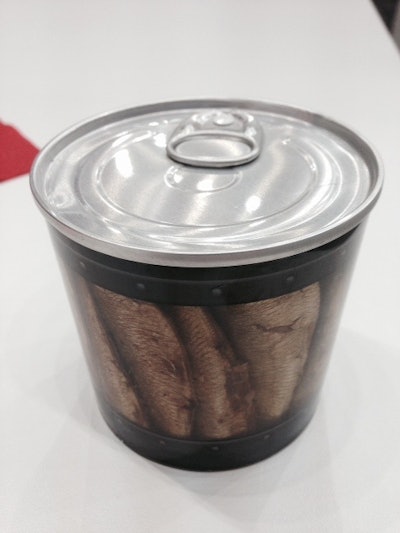 Brivais Vilnis is the name of the company behind this innovative pairing of product and package. Weidenhammer is the supplier of the injection-molded and in-mold labeled container. In the label is a barrier layer of either SiOx or aluminum oxide that gives the retorted polypropylene container a two-year shelf life. Topping the container is a seamed-on steel lid with an easy-open ring-pull feature. At Weidenhammer's interpack booth, Sales Director Andreas Rothschink said that the plastic container is filled on the same filling and seaming line that was used to fill the steel can that has been replaced. Only minor modifications to the seaming rolls were required. A key to the Weidenhammer technology is optimized application of the two in-mold labels—a bottom label plus a wraparound on the sidewall—to guarantee no gap in oxygen barrier.
Elsewhere in the protein category, this time in case-ready fresh red meat, Faerchplast was showing a concept called Meatpack+ that extends refrigerated shelf life by two days. Pitching in on the concept is Paper Pak Industries, whose active absorbent pad releases CO 2 when liquids naturally released by the meat soak into it. The idea is to backflush the thermoformed PET container with CO 2 in the first place. But since, over time, the ability of the backflushed gas to inhibit bacteria growth is diminished, the "new" CO 2 released by the pad becomes a supplemental bacteria inhibitor. Accordging to Faerchplast Senior Manager of Group Commercial Affairs Jesper Emil Jensen, a user of this concept gets 9 to 11 days of refrigerated shelf life as opposed to the typical 7 to 9.
Over on the pharma side, a Domino press conference served up some sobering reminders of how persistent a scourge counterfeiting remains today. According to Domino's Craig Stobie, Life Sciences Manager at Domino Printing Sciences annual sales of counterfeit medications are in the range of 57 billion Euros, and 62% of meds purchased online are fake. Domino is actively engaged in a variety of technologies and solutions that will help pharmaceutical companies comply with several regulations now coming onstream that are aimed at preventing counterfeits. He also emphasized how important it is that companies get cracking on their compliance strategy, because it can take up to five years to come up with a proper solution. Compliance, said Stobie, is not just an engineering problem requiring an engineering fix. A holistic solution is needed, not just something off the shelf. And whatever solution is arrived at, it needs to be agile, because the compliance landscape is sure to be a shifting one in the near to medium term.
The second international SAVE FOOD Congress ended successfully at the interpack 2014 packaging trade fair in Düsseldorf, Germany. Even more than the inaugural edition three years ago, this two-day congress impressively demonstrated methods to fight food losses and food waste along the entire value chain. "I am very pleased with the second international SAVE FOOD Congress and with its outcome. Once more, it impressively demonstrated that a broad alliance reaching across sectors and across nations can make a difference and have a real impact. Our goal is and will remain a reduction of food losses and food waste and along with that the eradication of hunger in the world – and this Congress has brought us a big step closer to our goal," stated Werner M. Dornscheidt, President and CEO of Messe Düsseldorf.
Finally, one machine trend that appears to be picking up steam is the development of pouch-filling systems that do away with preformed pouches and form pouches instead from rollstock. Both Bossar and AcmaVolpak showed such systems. The Bossar BVH sysem combines a vertical form/fill/seal front end that transfers pouches to a walking-beam filling station. The AcmaVolpak system is a continuous-motion rotary concept that includes six rotary turrets.

Companies in this article