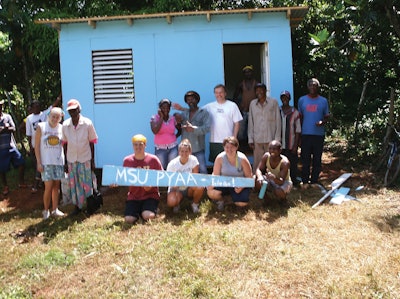 I've always been passionate about packaging. But recently my career as a packaging professional took an unexpected turn that has only intensified that passion. I discovered that my experience in packaging puts me in a unique position to help others in less developed parts of the world like Jamaica. And so it is that next month I'll be part of a team traveling to Jamaica to assess training, microfinancing needs, and volunteer opportunities there.

Among the projects we'll seek to support is assisting a woman named Ma Ruubs expand distribution of her unique baked goods across the island by improving her approach to packaging. She bakes cakes, puddings, and the traditional Jamaican Bammy, which is made from a perennial woody shrub called cassava. We'll also look for ways to encourage other young women to join her so that together they can produce real, sustainable revenue by leveraging such things as shelf life extension and improved food quality.

This volunteer work would not be possible without the support of other packaging professionals, first and foremost my partner Mike Richmond, who has encouraged this work from the beginning. Our partners at IsleGo Missions (www.islego.com) have also provided tremendous support.

Other friends have provided financial support. In fact, their donations have allowed us to build three homes for families in need. The first of these was funded by the Michigan State University Packaging Young Alumni Association. They heard stories of what we were engaged in and offered to donate $2,000. The photo included here shows the house and our team.

When we reach Jamaica in July, we will also be supporting an organization called Trekking for Kids (www.trekkingforkids.org). TFK is a non-profit 501(c)(3) corporation that organizes purpose-driven treks for socially-conscious hikers in some of the world's most remote and iconic locations. TFK focuses on the orphans who live in the shadows of the world's most coveted adventure destinations and brings dollars that help support infrastructure and sustainability projects at orphanages needing repairs to existing facilities. All TFK projects are aimed at providing these orphanages a boost towards internal sustainability.

Part of our work with TFK will revolve around opportunities to build income streams and address eco-sustainability. Packaging litter and resource management are two target areas. We are also speaking with the Arizona State University Sustainability Institute about involving AZU with the University of the West Indies.

Considering how frequently packaging is unfairly disparaged as nothing more than a source of solid waste that should be minimized if not eliminated wherever possible, I thought it important to articulate here the many ways in which packaging can be a powerful source of positive social change.

None of this work is possible of course without commitment from family, employers, time, hard work, and financial donations. So thanks to all who have helped to make this continued effort by one packaging professional a possibility.
About the author: Brian Wagner (brian@ptisglobal.com) is vice president of Packaging Technology Integrated Solutions (PTIS), a division of HAVI Global Solutions Direct, LLC. (www.ptisglobal.com).