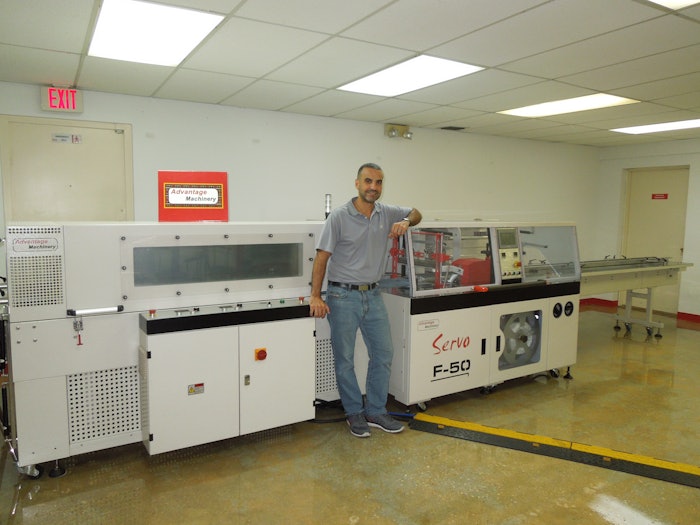 PP-OEM: What first attracted you to the packaging/processing automation industry?
Garrido: Anything that you convert to paper products needs to be packed for transportation, retail or whatever the case may be. That's what first got us interested in packaging—it complements our paper converting. As the years passed, the paper converting industry kept shrinking because of the digital growth in books, magazines and newspapers. We wanted to diversify our product offerings outside of the paper converting industry, and since we already had years of experience with packaging, it was just a natural fit for us to get further into packaging automation.
PP-OEM: What types of trends or opportunities do you see affecting the industry? 
Garrido: I think e-commerce is changing the way consumers are getting their goods. The Amazons of this world are basically cutting out retailers. OEMs will be facing a lot of challenges in order to adapt their machines to meet the new packaging standards that are going to be set forth by online wholesalers. The traditional preparation of goods, shrink-wrapping, putting them in cases, palletizing, [and] sending them to distribution warehouses—that is not necessarily going to be the model. There are going to be shorter production runs or shipments, with goods being sent through a wide variety of distribution centers.
PP-OEM:  What are the industry's biggest challenges?
Garrido: I want to say the workforce is probably the biggest challenge, particularly when it comes to finding young engineers. Right now, it is extremely difficult to find young engineers that want to stay in this industry.  You see a lot of universities that have packaging-specific degrees and programs, but they tend to gravitate to the consumer side of things. These graduates end up working for the large processing companies, or the large manufacturers, but less frequently the actual OEMs that are making machines.
PP-OEM: What do you think the industry can do to attract more young people and future engineers? 
Garrido: PMMI does very good outreach programs, like Jump Start, to local high schools that get young men and women interested in manufacturing and engineering. What is really needed are for more associations to reach out to universities and help with opportunities for graduates to enter internships in this field. 
PP-OEM: What would be your advice for young men and women entering the industry?
Garrido: I think the main thing is to go ahead and learn as much as you can of the different dynamics there in the industry—there are so many different fields or industries within packaging. You have processed foods, you have meats, poultry, electronics—so many different things get processed and packaged, and you really need to go out and learn as much as possible about them. 
Companies in this article