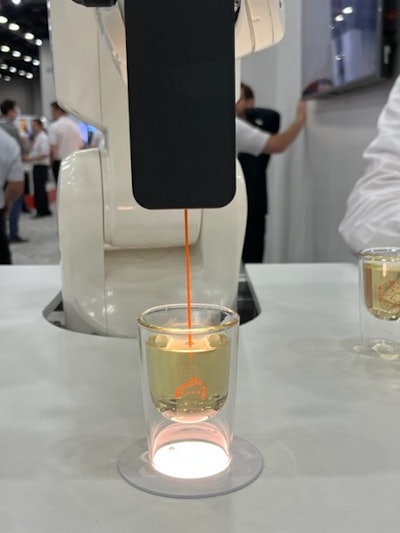 Kuka
Germany-based automation brand Kuka debuted its Print-A-Drink robotics model—a collaboration between Kuka and Print-A-Drink founder Benjamin Greimel—at the recent Automate 2023 in Detroit.
Print-A-Drink utilizes a six-axis Kuka KR Agilus robot, and merges robotics, life sciences and design to inject microliter-drops of edible liquid into a cocktail. Within a minute, Print-A-Drink builds up 3D structures in a wide range of drinks, creating augmented cocktails with natural ingredients.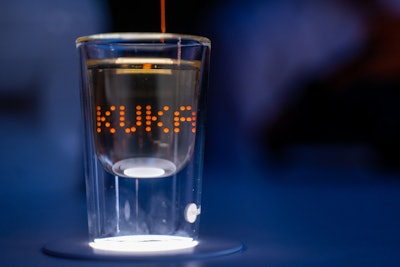 For the 3D drinks, conventional fruit juices, syrups, water, and alcohol can be used, giving the application a range of flexibility depending on user need, according to Kuka. The printing process works without artificial ingredients.
For events and exhibitions, Print-A-Drink uses a small footprint, with just a robotic arm and a mobile bar. The KR Agilus is designed for high working speeds so printing a cocktail takes only a minute, and one robot can print hundreds of drinks per evening, saving labor. The process works with a variety of different drinks, colors and 3D patterns. It's also possible to program custom designs for unique cocktail creations.
Companies in this article