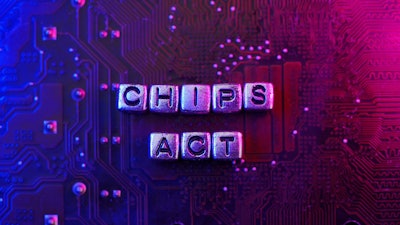 Getty Images
It's no secret that supply chains disruptions and the ongoing semiconductor chip shortage has manufacturing across various sectors in a scramble. We're three years into the pandemic (or is it over now?) and the economy is certainly not where it was prior to COVID's grand debut. Within the world of manufacturing, and amidst labor shortages and shipping delays, lies the semiconductor shortage.
A semiconductor is defined as "a solid substance that has a conductivity between that of an insulator and that of most metals, either due to the addition of an impurity or because of temperature effects. Devices made of semiconductors, notably silicon, are essential components of most electronic circuits."
These circuits are used in automobiles, household appliances, computers, industrial equipment, and even used in defense systems. According to Whitehouse.gov, America invented the semiconductor, but today produces only about 10% of the world's supply—and none of the most advanced chips. Instead, we rely on East Asia for 75% of global production. The past few years has done much to expose this dependence on chips made abroad, and the fragility of those supply chains.
"Part of the lesson in the last three years is that outsourced and offshored activities come with great risk in times of global upheaval," says Dave Swedes, vice president of engineering at Valco Melton.
To avoid this problem in the future, and in an effort to bring some semiconductor manufacturing back to the States, there is the newly signed (as of August 2022) CHIPS and Science Act. The act aims to boost American semiconductor research, development, and production, all to position the U.S. as a leader in this technology. The CHIPS and Science Act is expected to unlock hundreds of billions more in private sector semiconductor investment across the entire country, including production essential to critical sectors like manufacturing.
And it's a good thing, as demand for these types of products is only growing. According to a McKinsey & Company report "The Semiconductor Decade: A Trillion Dollar Industry," it is estimated that worldwide demand has semiconductors poised to become a $1 trillion industry by the end of the decade. That's why the act is so important and necessary to meet this new demand, and control some of the manufacturing to remedy parts shortages and shipping delays. The overall goal of the act is to strengthen American manufacturing, supply chains, national security, R&D, and workforce. The act is designed to not only strengthen U.S. semiconductor development, but also promote wireless supply chains, and invest in new technologies, like artificial intelligence (AI). All of this is designed to up America's manufacturing game to ease current supply chain issues—which will help OEMs in the long run as they cope with the ongoing chip shortage and supply chain disruptions.
---
---
A look at the numbers
According to WhiteHouse.gov, the act will work to strengthen manufacturing, keeping the United States the leader in the industries of tomorrow, including nanotechnology, clean energy, quantum computing, and AI. It's sounds like a tall order, but manufacturers and suppliers fed up with having to rely on semiconductors made overseas are ready for a solution.
"If there are other sources for semiconductor-based components in the U.S., then I think that will benefit manufacturers all over the world," says Eric Langen, sales and marketing manager at AFA Systems Ltd, a Canadian-based provider of engineered packaging automation systems. "Last year was an absolute nightmare in trying to procure electronic components, [such as] servo drives, I/O cards, etc., in a timely manner. It certainly does not make a lot of sense having one dominate supply chain for these components that are critical for any economy."
While the goal of the act is to promote a better future in manufacturing, let's look briefly at the past.
According to another McKinsey report "The CHIPS and Science Act: Here's what's in it," the ongoing shortages of semiconductors hurt U.S. economic growth by nearly a quarter-trillion dollars in 2021. To expand domestic manufacturing of mature and advanced semiconductors, McKinsey reports that the Department of Commerce will oversee $50 billion in investments over five years, including $11 billion for advanced semiconductor R&D and $39 billion to accelerate and drive domestic chip production.
The Whitehouse.gov breaks it down this way. The CHIPS and Science Act provides $52.7 billion for American semiconductor research, development, manufacturing, and workforce development. This includes:
· $39 billion in manufacturing incentives, including $2 billion for the legacy chips used in automobiles and defense systems
· $13.2 billion in R&D and workforce development
· $500 million to provide for international information communications technology security and semiconductor supply chain activities
· It also provides a 25% investment tax credit for capital expenses for manufacturing of semiconductors and related equipment. These incentives are said to secure domestic supply and create thousands of high-skilled manufacturing jobs.
But the questions to ask are: "When is relief really expected to be felt? And, by whom?"
"Incentivizing investment for chips and other electronic components to be manufactured in the U.S. certainly has merit," Swedes acknowledges. "Market forces have been driving that change anyway, as many manufacturers have realized their vulnerability to global markets that have single points of sourcing. Clearly, building this kind of capacity has a five to 10-year horizon so the effects, for many, will not be felt immediately or even in the medium term."
But while relief is said to be on its way, it doesn't seem to come as a surprise that there is a lag in overall technology investments in the U.S.
"The U.S. has often lagged in creating incentives for small to mid-size companies to make investments in technology, labor force education, and expansion, as well as improving manufacturing processes," continues Swedes. "The Europeans do a much better job of that. With that in mind, the spending is welcome news. The downside is that much of this money will be targeting defense industries and consumer technology rather than industrial equipment."
The industry responds
The CHIPS and Science Act makes some big claims and has lofty goals to get American manufacturing in key sectors back up and running and position them as industry leaders like never before. Given the scale of investment required, building new semiconductor fabrication plants will take more than government funding. Private investment is needed too. And luckily, the industry is responding.
---
---
Take for instance, Micron, an American producer of computer memory and computer data storage. The company has announced a $40 billion investment in memory chip manufacturing, critical for computers and electronic devices. This investment will create up to 40,000 new jobs in construction and manufacturing, and bring the U.S. market share of memory chip production from less than 2% to up to 10%.
Then there's Qualcomm, a leading wireless tech innovator, and GlobalFoundries, a multinational semiconductor contract manufacturer and design company. The two companies have announced a new partnership that includes $4.2 billion to manufacture chips in an expansion of GlobalFoundries' New York facility. Qualcomm, the leading fabless semiconductor company in the world, announced plans to increase semiconductor production in the U.S. by up to 50% over the next five years.
Addressing labor challenges
Another unwelcome result of pandemic shutdowns is, of course, labor shortages. Part of the CHIPS and Science Act addresses these challenges to be sure that when semiconductor manufacturing, as well as other technologies, is up and running here in the U.S., we have the workforce to support it.
A well-known issue within manufacturing lies within a missing skilled workforce. Focusing on science, technology, engineering, and mathematics (STEM) education and workforce development activities is critical to developing skills needed for taking on the highly skilled jobs of the emerging industries built on the technologies of the future. That's why the act will work to provide STEM opportunities to more Americans.
The CHIPS and Science Act authorizes new and expanded investments in STEM education and training from K-12 to community college, undergraduate, and graduate education. Whitehouse.gov states that it does so "to ensure more people from all backgrounds and all regions and communities around the country, especially people from marginalized, under-served, and under-resourced communities, can benefit from and participate in STEM education and training opportunities."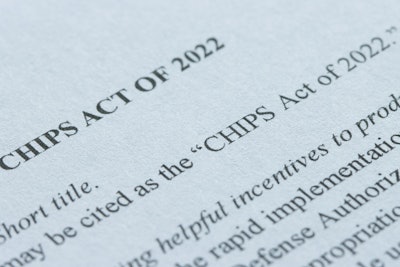 The future of manufacturing is bright
Based on current manufacturing challenges, including the skilled labor gap, and supply chain delays, the collective hope for the CHIPS and Science Act is that it will provide relief for today's manufacturers. "Every manufacturer in America will benefit from the CHIPS and Science Act, whether they make chips, make products that require chips, or are part of a supply chain disrupted by the semiconductor shortage," said National Association of Manufacturers (NAM) president and CEO Jay Timmons in a statement. The future of the segment should be bright with the promise of semiconductor manufacturing taking place on U.S. soil, and thus not requiring overseas shipping and potential shipping delays. As an OEM, know that help is on the way and your current struggle of components, parts, chips, and even labor shortages will (hopefully) soon be a thing of the past.
"Our economic future and America's leadership in the world depend on a competitive manufacturing industry. Congress has acted wisely with the CHIPS and Science Act. Now we need Congress to continue standing with manufacturers and focus on policies that will help us compete with China and other countries, not make it more expensive to make things in America," Timmons stated. In summary, the act aims to leverage the latest technology today to create manufacturing plants of the future, with more intelligent systems and processes that require less labor, and less dependence on foreign aid.
The takeaway for OEMs: Stay tuned to see how soon the benefits of the CHIPS and Science Act will be felt in today's manufacturing plants. But stay positive that while progress may move slowly, it is moving in the right direction to bring more U.S.-made parts and technology right here to our shores.
Companies in this article