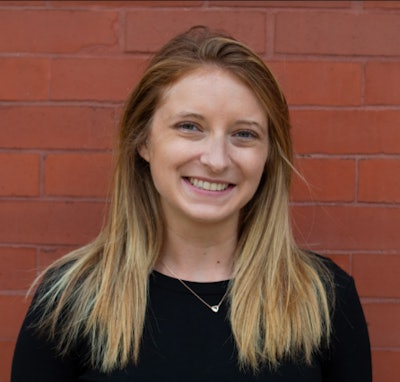 PMMI, The Association for Packaging and Processing Technologies, recently announced its fifth annual On the Rise Awards winners. Developed by PMMI's Emerging Leaders Committee, the awards recognize 10 young professionals who have demonstrated leadership potential in packaging and processing. Allison Wagner, business strategy manager at Morrison Container Handling Solutions, is one of the 2022 winners. Wagner grew her communications manager role into a full-fledged marketing department in just six months, and, by aligning with sales, helped Morrison achieve over 20% year-over-year growth for three consecutive years. She recently spoke with OEM magazine about her current role and career objectives.
Can you provide a brief description of what Morrison Container Handling Solutions does?
Wagner: Morrison Container Handling Solutions designs and manufactures container handling automation equipment for the packaging industry. Rooted in timing screw technology, our product lines manipulate container orientation and positioning for virtually every packaging application to increase throughput and efficiency of other packaging processes and equipment.
What is your role and responsibilities at the company?
Wagner: My role oversees three critical areas of the business: marketing, business development, and business strategy. Within the business strategy side, I'm helping to shape where our company is going to go over the next year and decade, and what it will take to get there. From there, I'm helping lead strategic initiatives across multiple departments that will allow us to achieve our growth goals. This then rolls down into business development, where I work with teams to drive new market development and product development [for] new products and current ones. This arm really helps roll into how we achieve the strategy we've set forward and what new opportunities we will need to capitalize on. Finally, I take all of this knowledge of our goals and drill it down into our marketing strategy, then help the department implement this to continue to grow. It's a very exciting, all-encompassing role that allows me to extend my marketing knacks into operations and engineering while driving overall strategy for the organization. I spend much of my time speaking to our leadership team, taking their wants, wishes, and needs, and finding ways to help coordinate and make it work for the business. It's the most fun I've ever had in my career, and I'm energized with new puzzles to solve every single day.
During your three years at the company, have you had the opportunity to learn different sides of the business?
Wagner: I've had the pleasure of learning about the operations of nearly every department at Morrison and assist within them in some shape or form. This has drastically changed my approach to not only my role, but doing business, because I'm able to understand how every decision has a larger impact on the company and other peoples' roles within it.
For marketing, specifically, I think it is vital in this industry for marketers to learn different areas of the business. This is where we not only become experts in the products we help sell, but it also provides for a treasure trove of potential content we can share with our prospects and customers to make them brand loyal. It helps us tell stories and embed ourselves into the larger picture of how the business operates. This then has helped me move into a bigger picture role that plays within multiple departments, and has given me an opportunity to grow my skillsets outside of the marketing world and bring more value to my team.
How do you help the company innovate?
Wagner: My role is pushing me to pay attention to emerging trends and report back to our business leaders, providing various recommendations on new products and services that will expand our company and allow us to remain competitive in an ever changing marketplace. I enjoy flexing this side of my brain and sinking my teeth into researching new opportunities or ways of doing things. Then, I get to work with some of the best and brightest people in the industry right in my own office to bring these innovations to life—watching them do their thing and providing support for them to let those innovative juices flow. It's fun to be in the room where it happens and play a part!
What have been some obstacles you have faced in your career and how did you overcome them?
Wagner: Being a female leader within this industry presents challenges within itself, but I'm very lucky to have amazing female role models—inside and outside of packaging—who help me navigate these implicit biases that still live in our world today. This is a daily work in progress, where I have to decide the best way to challenge the language or outdated thought processes that come my way. To be surrounded by strong women, I'm uplifted to keep finding new ways to navigate, educate, and hopefully shift this from within our industry. People have good intentions, and I always try to focus in on that while shifting the narrative for the future.
Another challenge that presents itself is always not knowing what you do not know. We're taught to fake it until we make it, but this only leads to competition and not truly growing. I've learned to become really comfortable asking people to explain things in new ways or help me truly understand the mechanics behind something. It only makes me better and allows my peers to showcase their innate talents.
How did you make your way into the packaging industry?
Wagner: I joined the packaging industry by happenstance. After completing my graduate degree, I was specifically looking for a marketing role opportunity that would allow me to learn a lot and shape a department, which is exactly what Morrison was looking for, making this a perfect fit. Once I interviewed and toured the facility, I was excited about the opportunity and what the industry did in the grand scheme of things. I quickly realized; I wasn't far off from how I grew up. My father managed a collision repair shop on the Southside of Chicago my entire life, and I was lucky enough to grow up there, spending many summers and Saturdays liaising between the office and the shop floor. Sometimes, when I walk across the shop floor at Morrison, I feel like I'm 15 again, walking across the shop floor at Preferred Auto Body looking for an update on a fender that went into the paint shop or delivering a door skin that just came in. There is comfort for me there, and that is exactly what I do at Morrison. I find myself in this unique juncture of office and shop, and this intersection is so important and keeps our industry exciting. I think I was always destined to go back to where I came from, my roots being right where I am. It just feels right.
I also realize that I learned how 'doing the right thing because it's the right thing' is the best customer service philosophy in life; it will never fail you. Thanks, dad!
What advice do you have for others who may be interested in starting a career in packaging or some aspect of the manufacturing industry?
Wagner: Make the leap! Packaging and manufacturing are only going to continue to grow as automation becomes more and more important and our world continues to become more connected. I always describe the industry as 100-year-old startup [where] we reward innovative ideas and catapult young leaders to the top based on their innovative ideas and experiences versus years of service. It's the best of both worlds where you are challenged in a safe space that will allow you to fail fast, learn, and continue to try new things. Doesn't that sound like fun? If you want to be in a place where you can bring ideas to the table, be heard, and then execute, you've found the right place. We've been waiting for you.
As a rising star in your organization, what's next for you?
Wagner: This industry has shown me that growth can happen quickly if you work for it. We reward people who want to push things forward. With that in mind, I really hope to move into a director role as I continue to aid my organization in strategy for future growth, as well as grow the business development department at Morrison. These two goals are markers for me that I believe I'll earn by learning more and contributing the best of me every day.
Companies in this article
Videos from Morrison Container Handling Solutions