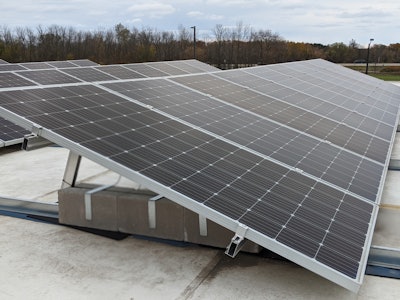 Viking Masek
OEMs today are not shying away from their commitment to sustainability. More than just a buzz word, sustainability today encompasses how a company approaches everything from new product launches to equipment manufacturing, powering their facilities, and even employee recycling.
"To minimize our climate impact and ensure food security for the future, we take a full lifecycle view. We need to drive down carbon emissions at every step of the value chain, and there are a few impactful ways of doing so," says Lisa Rydén, vice president of corporate social responsibility at Tetra Pak, a food processing and packaging solutions company.
The company does so by working to "decarbonize materials," by using responsibly sourced, renewable plant-based materials instead of the virgin, fossil-based materials commonly used today. Tetra Pak also works to "decarbonize production" by working with suppliers to minimize carbon footprint upstream, utilizing renewable energy, and reducing the carbon impact of the company's equipment. And lastly, the company focuses on reducing food loss and waste and on recycling initiatives.
Many companies and OEMs, including Wexxar Bel, the case forming an case erecting equipment manufacturer, use a multi-pronged approach to sustainability, focusing not only on equipment but also materials. Part of the Pro Mach company, Wexxar Bel's sustainability plan focuses on equipment efficiency and sustainability, as well as initiatives that impact the company's everyday operations. For instance, the OEM says it recycles all wood, soft plastic, and corrugated scraps, and aims to use fewer caustic (corrosive) chemicals in their facilities.
On the equipment side of things, as Wexxar Bel works to design new equipment, the company says it aims to do this by reducing or simplifying certain parts of the machine to help lower its carbon footprint, lower energy consumption, and reduce the number of parts needed to be manufactured.
Going above and beyond equipment improvements and recycling, some OEMs are making drastic changes to their facilities to better achieve their sustainability goals. Environmentally invested since 1959, Polypack, a secondary packaging OEM focusing on shrink and corrugate bundling, focuses on sustainability in four areas: source reduction, research and development, energy efficiency, and using eco-friendly materials. But taking it perhaps one step further is Polypack's solar-powered facility.
Leveraging solar energy
Polypack's 82,000+ sq.-ft. Pinellas Park, Florida facility features 1,629 solar panels that power a vast majority of its operations. According to Nicolas Cerf, sales director of Polypack, Inc. the plant gets 95% of its energy from solar power. "Polypack's building is lucky to have one of the largest private solar farms in the state of Florida. This acts as a daily reminder of the importance of sustainability for all of our employees. The performance of the panels is displayed on a monitor in the lobby for everyone to take a look at," says Cerf.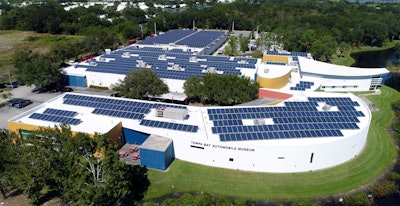 Even in northern climates, solar energy can be leveraged to help companies reduce their carbon footprint and be independently energy efficient. Viking Masek Packaging Technologies' 33,000 sq. ft.-facility in Oostburg, Wisconsin utilizes solar panels that generate 300,000 kWh annually, providing the company with $25,000 in annual utility costs savings. But aside from saving money, Ty Weinhold, COO of Viking Masek Packaging Technologies, says the solar panels create the energy needed to power its facility and help power the surrounding community. "By utilizing an environmentally conscious energy source we can provide a great deal of value to the community, producing enough excess electricity to power 28 homes in the surrounding area. In addition to reducing our carbon footprint, we can invest in other areas of business while increasing our bottom line. Our investment has paid for itself in full in just three years," Weinhold says.
---
---
Tetra Pak has also taken measures to ramp up sustainability within its plants, which includes a focus on renewable electricity and solar power.
"Our use of renewable electricity has risen from 20% in 2014 to 83% in 2020…All our converting factories within the EU, as well as all our factories and offices in the U.S., are already using 100% renewable electricity. This journey included the installation of solar panels across our operations and the purchasing of renewable energy certificates, being one of the first to do so in countries such as Thailand and South Africa," says Rydén.
By leveraging solar power, these companies are discovering how to reduce emissions and save on costs, while still producing the quality, reliable, and eco-responsible equipment their customers have come to expect.
"To Polypack, sustainability means offering solutions that are good for the environment and that are built in a sustainable way. Our equipment allows customers to bundle their goods with less material and electrical consumption than similar machines in the industry. In addition, we focus on producing our machines in a sustainable fashion by using only stainless steel for key machine sections and harnessing solar power to run our factory," says Cerf.
Getting everyone on board
Part of corporate sustainability is making sure the workforce is on board by promoting all of the green initiatives, and sharing the overall impact. "Sustainability is embedded as a pillar of our Strategy 2030, therefore making sure employees and factory workers are updated about the related initiatives is extremely important," says Tetra Pak's Rydén. "We count on a full suite of internal communications channels to realize this goal, including regular news posting on our intranet, podcast interviews with experts, internal webinars on most pressing industry and societal topics, TV screens located across our factories mirroring our sustainability achievements, and actions to involve shopfloor teams in the conversation. If being on top of what's happening is key, equipping colleagues with the right tools and skills to realize our sustainability agenda, is equally critical."
Getting the workforce involved and excited in sustainable initiatives can help set the tone for a "green" workplace and foster an environment in which new ideas are generated. Plus, getting everybody on board in a company's green initiatives can help spur excitement and ownership over their environmental impact.
"The goal of our solar energy project was a twofold approach. We value our contribution to the environment by creating renewable energy, offsetting roughly 50% of our electrical consumption needs from our local utility. Alongside the environmental benefits, it is fantastic to utilize our own resources for our employees to produce high value machinery with energy generated directly above our heads," says Viking Masek's Weinhold.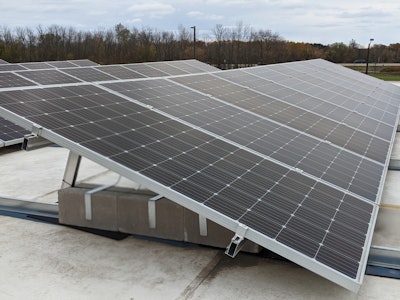 Another facet of getting everyone on board is the idea of a collaboration with both team members and customers. Like many OEMs, BW Packaging Systems, the packaging equipment arm of Barry-Wehmiller, recently appointed a global sustainable packaging leader within the company to do just that. Michelle Bryson will lead the development of a "sustainability roadmap" for the company and collaborate with team members and customers on several fronts, including the usage of responsible materials, recyclability, packaging design, waste, and carbon footprint reduction.
"We're also looking at how we infuse sustainability into our innovation framework, which means designing equipment for our customers that is efficient to operate, minimizes waste, and provides them with the ability to package products in a more sustainable package," says Christi Emmenegger, vice president of strategic marketing for the packaging platform of BW Packaging Systems. "Michelle is starting to meet with material companies and other suppliers in the packaging value chain to partner on new developments to ensure our equipment is adaptable and flexible to meet the needs of the market and our customers."
The road ahead
Moving toward a sustainable facility, or adopting sustainable initiatives for equipment manufacturing, energy use, and workplace initiatives can seem like a daunting task if you are starting from ground zero. But being mindful of the big picture can help.
"With sustainable practices, companies looking to invest in solar energy can capitalize on many financial benefits including tax credits, state and federal depreciation, as well as other incentives," explains Weinhold.
Meanwhile, Rydén focuses on the environmental impact associated with sustainability initiatives: "We are on a trajectory to hit net zero emissions across our own operations by 2030, with the ambition to reach net zero across our value chain by 2050…Looking ahead, we have set additional ambitious commitments, such as launching a fully renewable aseptic package by 2023, achieving a 70% recycling rate in Europe by 2025 and realizing a positive impact on biodiversity through forest conservation and nature-based solutions."
But like any worthy project, true sustainability is a longstanding commitment that relies on partnerships.
"Above all, our ambition is to deliver the world's most sustainable food package – one that is not pointing towards a trade-off between people and the planet," says Rydén. "This means creating cartons that are [completely] made of responsibly sourced renewable or recycled materials, fully recyclable, and carbon neutral. Based on this bold ambition, working collaboratively is critical. Transforming the global food system is a monumental task. It will require long-term focus and systems-level thinking to connect with all the relevant players across the food value chain."
---
---
This "monumental task" is a challenge that many of today's consumer brands, suppliers, and equipment manufacturers are up for, and one that stretches from equipment to materials. "One of the key areas that needs to be further explored for sustainability is plastic consumables. Polypack's sister company, Film Source International, sells a 100% post-consumer recycled low-density polyethylene (LDPE) film for our customers to purchase. We are excited about being able to offer such a great sustainable option in our market… We envision a circular economy for plastic in our industry's future, and Polypack plans to continue research, development, and promotion of eco-friendly, sustainable innovations in support of this," says Cerf.
The goals, initiatives, and projects available now are only the beginning. What's evident in the projects and initiatives fostered by the companies mentioned here is that they are adamant about one thing: sustainable innovation doesn't stop here. As more OEMs explore sustainable materials, equipment efficiency, and even solar-powered plants, sustainability simply becomes a way of doing business, and that's what makes the future of manufacturing a little greener.
Companies in this article